Hawaii's incredible list of tropical plants makes for a flora-lover's haven, which is precisely what you'll find at Oahu's Lyon Arboretum.
Here's all you need to know about the gorgeous gardens—and why you ought to add the arboretum to your bucket list:
Craving to get close to Hawaii's beautiful and mysterious plant life? Lyon Arboretum satisfies your botanical desires. Craving to get close to Hawaii's beautiful and mysterious plant life? Lyon Arboretum satisfies your botanical desires.
Formerly known as the Harold L. Lyon Arboretum, the 200-acre public garden, preservation site, and research facility features over 6,000 types of tropical and sub-tropical plants, as well as seven miles of hiking trails, a waterfall, an Herb and Spice garden—even a Walking Buddha statue.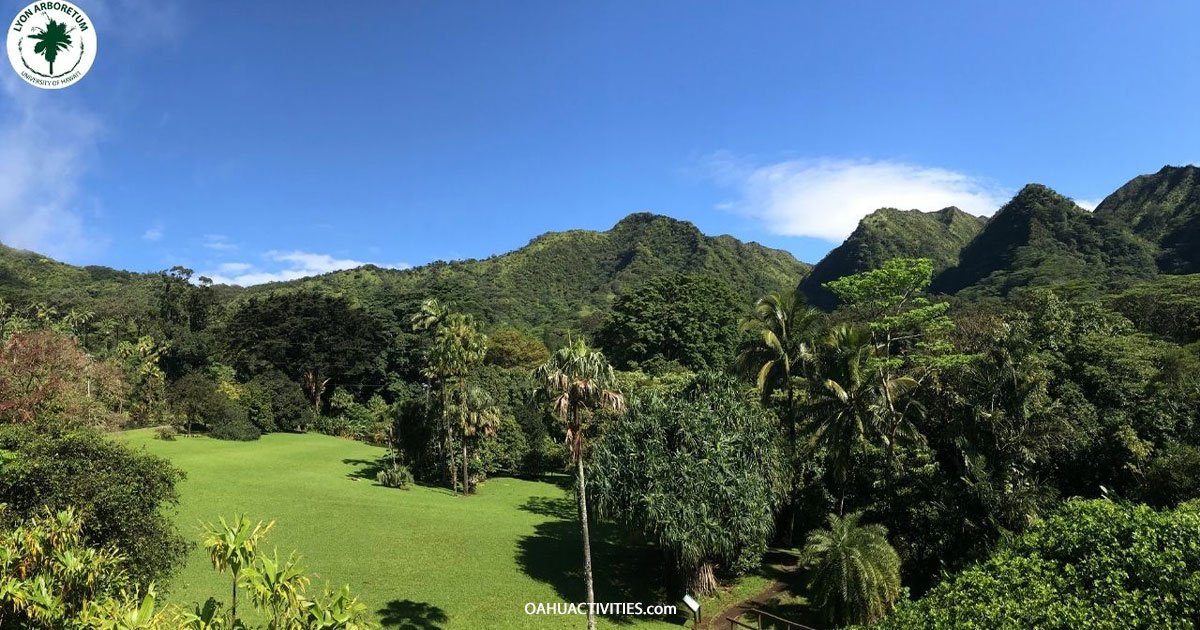 Oahu's beaches and other attractions offer fun in spades, but this exquisite garden supplies a sense of unsurpassed serenity.
Of its 6,000 types of plants, 1,400 are native to the Hawaiian Islands—and 90% of those are found nowhere else on the planet. You'll find gorgeous heliconia, crimson-edged ti leaf, and green-hued ferns, as well as ginger, azaleas, and aroids. As you peruse the grounds, keep your eye out for some of the most visually stunning plants you may ever encounter, including alienesque Tropical Pitcher Plants, red ohia lehua, white-petaled Florida Ghosts, the extraordinary Blue Jade vine, heart-shaped anthurium carinervum, and the aptly-named Bat Flower.
When visiting Lyon Arboretum, you'll also come across a number of themed—and spectacular—gardens. The Stemmermann Memorial Garden and Mapes Memorial Garden feature a lovely Japanese aesthetic and a blend of ornamental tropical and temperate plants. A gazebo overlooking a pond takes center stage at The Young Memorial Garden, while the Betty Ho Memorial Garden boasts an array of remarkable bromeliads. Not to miss: The Beatrice H. Krauss Ethnobotanical Garden. Here, you can feast your eyes on a fascinating collection of plants, such as kalo, that were essential to ancient Hawaiians. You can also observe 27 "canoe crops"—plants that were originally brought to Hawaii by Polynesians when they first set foot in the islands more than 1,700 years ago.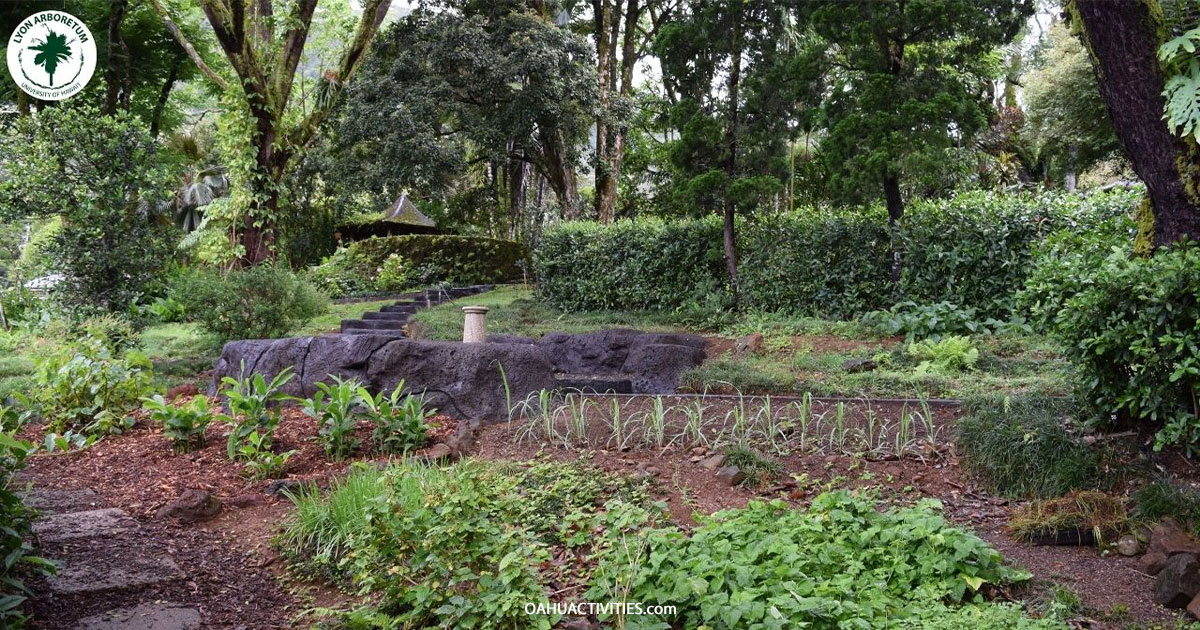 Lyon Arboretum, which is home to the largest palm collection in any botanical garden (as in, 15,000 accessions), also presents a bevy of immense and magnificent trees, from flirty hala to stately koa and exotic loulu palms. The Economic Section of the arboretum displays tropical plants and trees that are economically vital in terms of providing uses for timber, food, and medicine. Among the many splendors you'll see here are acai palms, cassava, durian, and lipstick plants.
On your visit, make a point to hike to Inspiration Point, which delivers epic views of the lush Manoa Valley. Along the way, keep your ears peeled for bird calls: The expansive garden is home to Brazilian cardinals, mynas, cockatoos, White-rumped Shamas, bulbuls, Mejiro, and more.
Have keiki in your crew? Enhance their engagement with the gardens by purchasing a Lyon Arboretum Exploration Kit (or simply enjoy one yourself). Kits include colored pencils, an activity booklet by the arboretum's Education Department, and a magnifying glass so that kids—or you—can witness the nuances of Hawaii's plant life (particularly at the arboretum's hands-on Children's Garden). Kits are $5 and can be ordered in advance here. Bonus points: Proceeds support the Education Department, which helps bring environmental education and outreach to Hawaii's youth.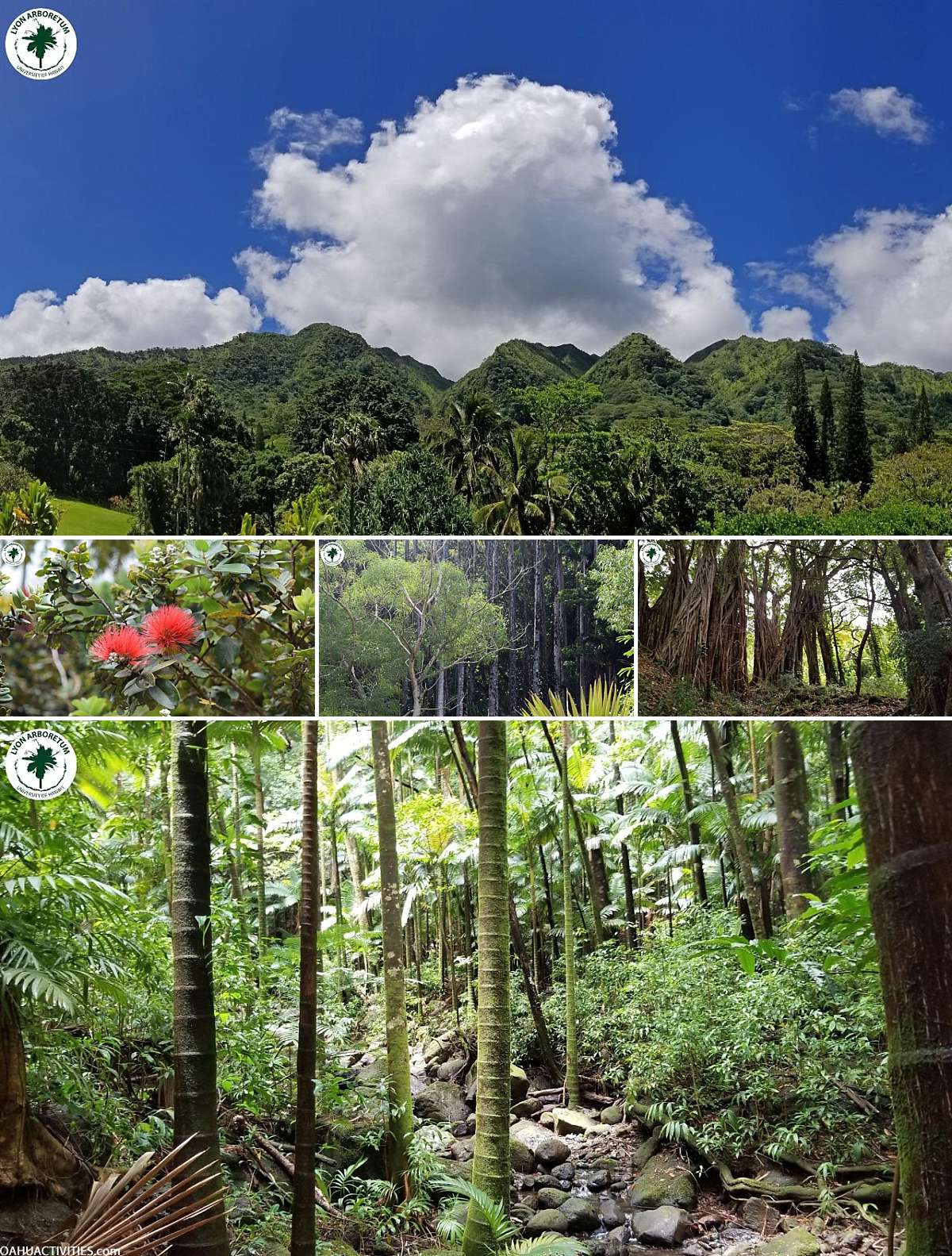 Located under the verdant Ko'olau Mountains—a range that receives roughly 165 inches of rain per year—Lyon's Arboretum is tucked into the northern end of Manoa Valley at 3860 Manoa Road, approximately four miles outside of Waikiki. In other words? It's the perfect place to spend a few hours when you feel a hankering to get away from Honolulu's bustling activity.
The destination, popular with visitors and kama'aina alike, was established in 1918 by the Hawaiian Sugar Planters' Association as a test site for reforestation and to collect plants of economic value. Dr. Harold L. Lyon—a botanist and plant pathologist from Minnesota—served as the original director; during his tenure, he planted more than 2,000 species of trees at the gardens. Some forty years later, Lyon encouraged the HSPA to hand the ropes over to the University of Hawaii, under the agreement that the location would continue as an arboretum for perpetuity. Today, it's the site of UH's Hawaiian Rare Plant Program, which concentrates on the rescue and recovery of Hawaii's most endangered native plants—a critical issue, given that Hawaii has more endangered plants per square mile than anywhere else in the United States.
Lyon Arboretum is open for self-guided tours from 9am to 3pm, Mondays through Fridays. (These hours are current as of September 13, 2021) Docent-guided tours, which include information on Hawaii's history, culture, and the arboretum's ongoing work, are presently not offered because of the pandemic. Advanced registration is required, and, due to COVID-19, visits are limited to two hours. (Masks are also required.) Admission and parking are free, but donations are encouraged. To make the most of your outing, wear sturdy, covered shoes, bring insect repellant, sunblock, water, and rain gear, and pack a picnic, as the arboretum does not offer food. Do know that the restroom and gift center at the arboretum are currently closed and that drones and pets are not permitted at the gardens. What is welcomed? A wish to learn more about Hawaii's enthralling plant life.
Nestled in the heart of Oahu, the Lyon Arboretum serves as a gateway to the island's diverse beauty. But Oahu's allure extends far beyond the botanical wonders of the arboretum. If you're enchanted by the vibrant flora of the Lyon Arboretum, you'll be equally captivated by the broader landscape of Oahu. From the dense green tapestry of its forests to the golden sands of its beaches and the majestic silhouettes of its mountains, the island offers a panorama of natural wonders waiting to be explored. Enhance your Oahu experience by joining our Grand Circle Island Tour. Witness the full spectrum of the island's scenic treasures and understand why Oahu truly is a paradise on earth.
BEST THINGS TO DO ON OAHU
The sheer number of things to do on Oahu is enough to make even the most organized traveler's head spin. With that in mind, we've narrowed down Oahu's musts so that you can experience the extent of "The Gathering Place's" wonder: