Honolulu's allure is globally renowned—this is, after all, the birthplace of Hawaiian tourism, and, as such, it holds everything from the remarkable 'Iolani Palace to one of the most iconic beaches in the world. Given the importance it's long held for Hawaii (serving, for one, as the state's government seat), it's no surprise that it's jam-packed with countless things to see and do.
Chief among those? Shopping!
Deemed one of the leading places to shop in the U.S.—and, bar none, the best place to shop in Hawaii—Honolulu possesses a wealth of stores both grand and boutique, offering consumers everything from Hermes scarves to exquisite souvenirs. And while shopping abounds across the city, the crowning jewel of it all is Ala Moana Center. Since its inception in 1959, Ala Moana has gone on to become the largest open-air mall in the world and the ninth largest shopping center in the United States, boasting over 350 stores and restaurants, weekly events, and first-rate entertainment. Here's what to do when you step through its sun-dappled doors:
By browsing the luxe boutiques that set Ala Moana apart from most other malls. Balenciaga, Bloomingdale's, Bottega Veneta, Burberry—the place is abloom with glitzy retailers. And this is just the B's we're on; the much-loved shopping center, which the U.S. World & News Report dubbed a "gold mine" for the fact that its annual sales top $1 billion, also features Chanel, Dior, Fendi, Dolce & Gabbana, Gucci, and Louis Vuitton.
At one of the many cosmetics counters or stores that fill Ala Moana, from Lush and MAC to Nordstrom and Neiman Marcus. Planning a night on the town? Book a chair at Ho'ala Salon and Spa. A two-time Best of Honolulu award-winner, Ho'ala offers an array of beauty services, including manicures, pedicures, facials, and body treatments.
To a new pair of shoes. The Walking Company has garnered great acclaim for fitting people with ultra-comfortable boots, sandals, and clogs. Aldo, meanwhile, carries the latest trends. Macy's has an impressive spread of kicks, and what woman would say no to a pair of Jimmy Choo's? Ala Moana has—yes—a store of its own.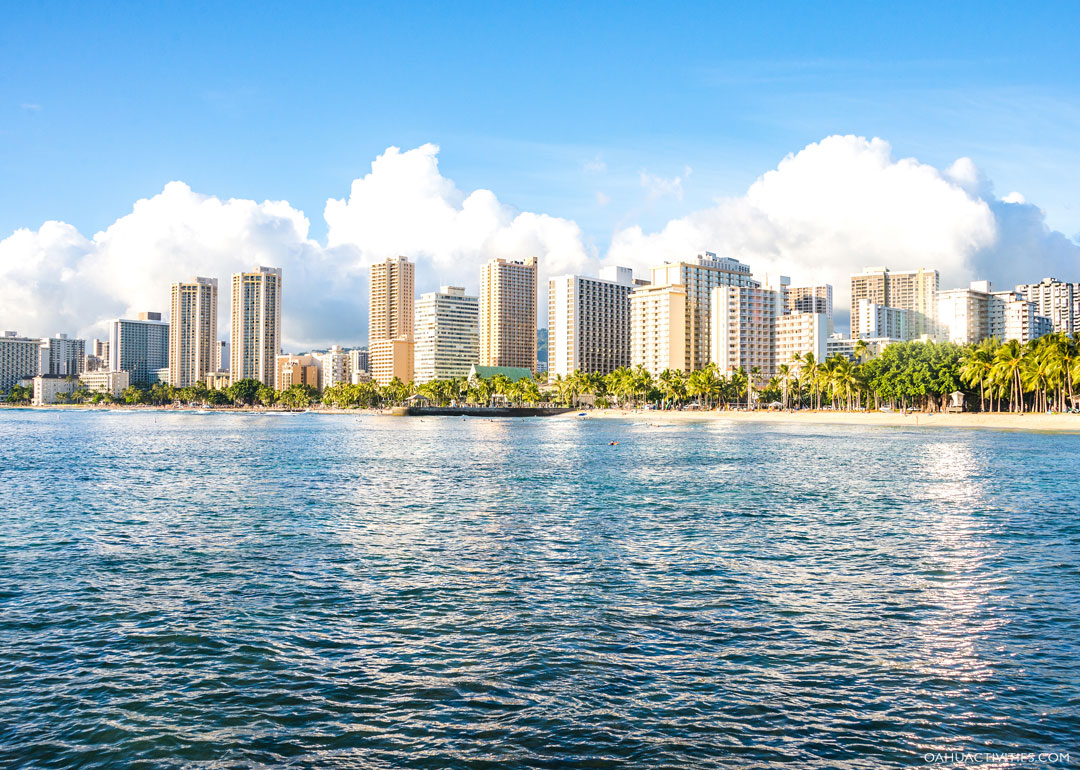 At The Brilliant Ox. The new gastropub—which opened in 2018—features a red phone booth, in a nod to London pubs, that's perfect for a group or solo shoot. Post-pics, snag a table at one of their two bars, where you can chow down on a burger that comes with an oh-my-god white miso, paprika, and kimchee sauce, or tavern faves with local flair, such as mochiko chicken thighs with yuzu-black pepper and shiso ranch.
Ala Moana's Art Walk. Because, really, how many malls can say they showcase a multi-million-dollar art exhibition? The Art Walk underscores Hawaii's cultural diversity and tremendous beauty with works by Bumpei Akaji, Yayoi Kusama, Stephen Freedman, and more—names that may be unfamiliar to you now but will be seared into your visual memory.
That won't be forgotten at Martin & MacArthur. Considered Hawaii's premier maker of Hawaiian furniture and home accessories for more than 50 years, this Aloha State institution crafts everything from stunning koa wood frames to lovely bronze sculptures.
In Hawaiian culture with Hula with Aloha, which provides lei making, Hawaiian storytelling, and hula lessons from an award-winning kumu hula, all within the center itself.
In Vintage Cave Club. Having gone down in history as Oahu's first gastro-molecular restaurant, this scintillating venue—situated in a literal basement cave and flourishing with art, including works by Picasso and Molnar—features the culinary genius of Hide Yamamoto, who creates multiple-course meals that'll leave you amazed. Yes, it's a pricey place—roughly $300 per person—but most claim it's worth every cent. Prefer to spend your Benjamins at Ala Moana's Lululemon? Drop into Vintage Cave for an afternoon tea; it runs about $18 a head.
Speaking of tea: Panya Bistro—a branch of the beloved Japanese bakery, Panya Bakery—features a mean green tea martini that's at once relaxing and invigorating. Fancy something sweet instead? Try their Japanese blueberry cheesecake: it's their signature dessert, and famed across Hawaii.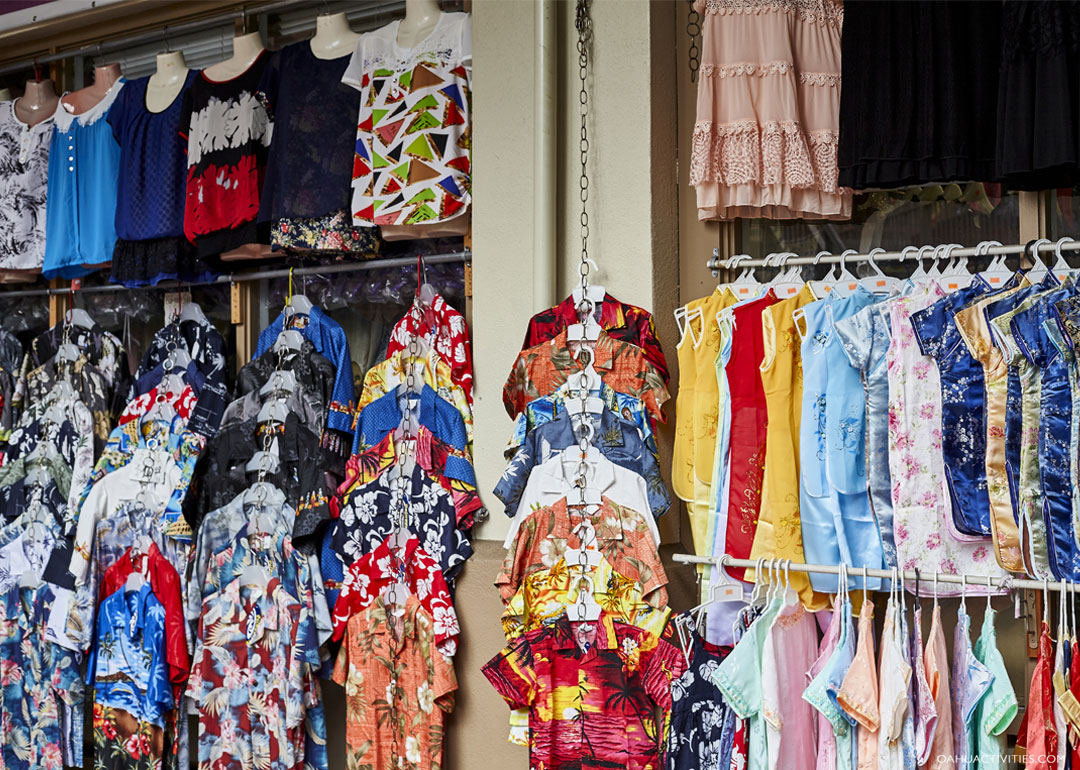 …with the beauty of Hawaiian culture at Ala Moana's hula show. Presented Monday through Saturday at Centerstage, the free, 20-minute production features both kahiko—traditional—hula and its modern form, hula auana, which boasts the fast finger-work of ukuleles.
And a swell one at that at one of Ala Moana's myriad sales. Sales events soar year-round at places ranging from Kiehl's and J. Crew to The North Face. Check their website in advance to see current discounts.
…at one of the many Hawaii-based boutiques. Ala Moana brims with local designers and companies, including 'Auana Quilts, which features traditional Hawaiian quilts; Moomin Shop Hawaii, where you'll find unique, timeless toys, mugs, totes, apparel, and phone cases, and Aloha Lane—the perfect place to pick up specialty stationary, island accessories, and discerning gifts.
…after shopping with pupu and a drink at Mariposa Neiman Marcus. Having christened itself "laid-back luxe," this high-end but chill café offers splendid views of Oahu's legendary sunsets. The dishes here are eclectic New American with Hawaiian panache: beet "poke" bowls, popovers with guava and strawberry butter, garlic ahi with furikake rice, hearts of palm on naan, lobster club sandwiches, loco moco soaked in delicious gravy…and this is just our getting started! Their cocktails are equally sumptuous, ranging from Mermaid Mai Tais with pineapple and orange curacao to Harvest Mules with ginger beer, lemon, and pumpkin. Toss your bags under your chair and take in the ambience around you: this is the most fashionable address in Hawaii.~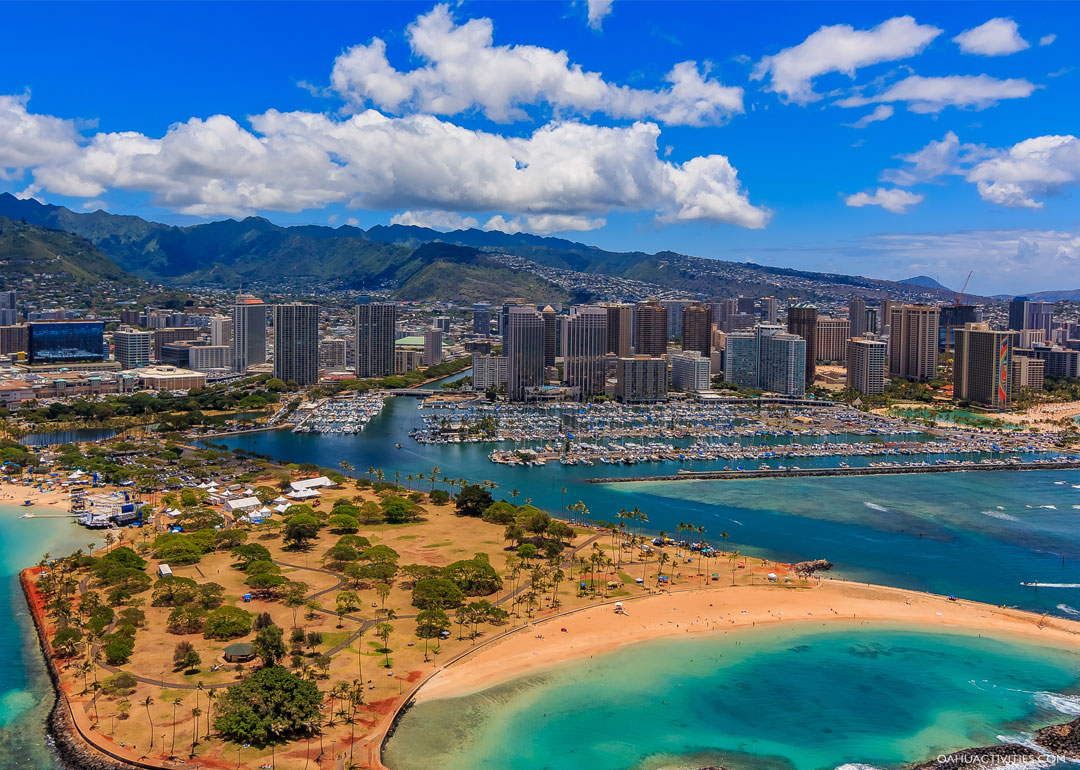 BEST THINGS TO DO ON OAHU
The sheer number of things to do on Oahu is enough to make even the most organized traveler's head spin. With that in mind, we've narrowed down Oahu's musts so that you can experience the extent of "The Gathering Place's" wonder: