Oahu's Most Popular Luaus
Luaus are a wonderful way to immerse yourself in Hawaiian culture when visiting Oahu. These vibrant, festive events capture the spirit of Aloha with a feast of traditional Hawaiian food, music, and dance. Often held outdoors, luaus provides a delightful opportunity to enjoy the scenic beauty of Oahu while partaking in authentic local traditions.
At a typical luau, you can expect to indulge in dishes like Kalua pig, cooked in an earth oven called an imu, poi which is a unique Hawaiian staple made from taro, and haupia, a delicious coconut milk-based dessert. The highlight is often the live entertainment, featuring hula dancers, musicians, and sometimes even fire dancers. Each luau on Oahu has its distinctive charm, making each one a unique experience.
We'll go over the top 5 Oahu luaus below so you can compare them and make an informed decision about which one you would like to go to next time you visit. Just remember to book early, as these popular events tend to sell out weeks in advance!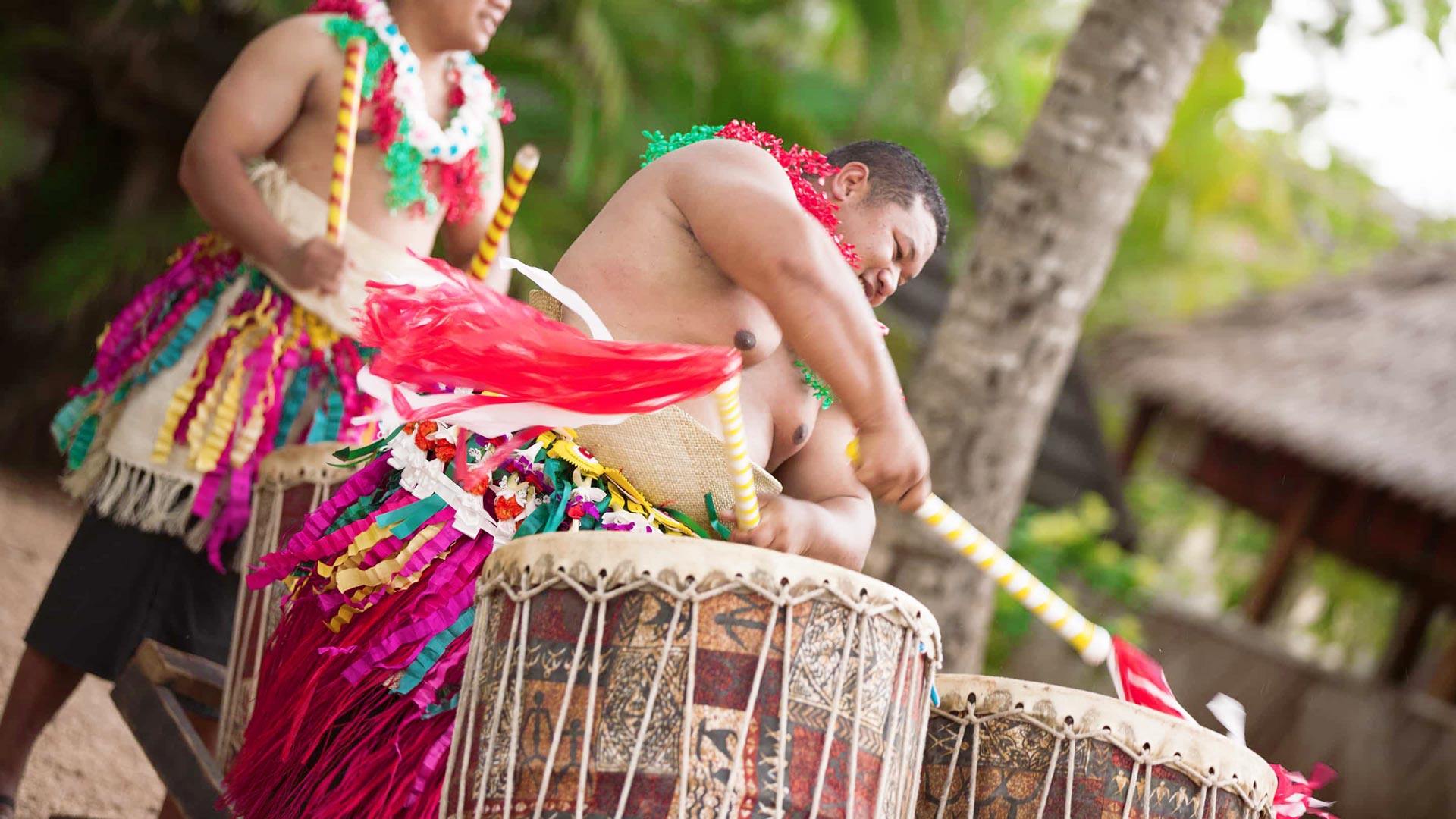 Diamond Head Farm To Table Luau
The Diamond Head Luau, one of Hawaii's finest, offers an unparalleled experience that stays with you long after the night ends. It's not just about the food, though the traditional Hawaiian feast, created from locally sourced ingredients, teases your senses with an array of island flavors. The magic of the Diamond Head Luau is more than the sum of its parts, combining a delectable feast with a unique cultural immersion that offers insights into Hawaii's rich history and traditions.
What sets the Diamond Head Luau apart is the picturesque setting. Envision a balmy Hawaiian evening, the iconic Diamond Head Crater forming a grand backdrop, and the sun slowly descending beneath the crystal-clear, turquoise ocean—a beautiful sight that marks the beginning of an incredible evening. As darkness falls, it's time to sit back and enjoy the talented hula dancers, musicians, and fire dancers, who bring to life the magic of the Hawaiian Islands. Under the starlit Oahu sky, you'll be mesmerized by a unique blend of singing, dancing, and storytelling—a true celebration of Hawaii's rich culture and history.
Highlights:
A buffet featuring locally sourced ingredients
Incredible views and scenery
Live music and entertainment
VIP tickets are available
Duration: 2-3 hours
Location: In the heart of Waikiki near Diamond Head
Aloha Kai Luau At Sea Life Park
The Aloha Kai Luau, located on Oahu's scenic east side, offers an immersive journey into Polynesian culture that goes beyond the usual luau experience. This luau, unique in its inclusive approach, allows guests to enjoy an evening filled with enchanting performances, tasteful food, and engaging activities that are as educational as they are entertaining. From the moment you arrive, the luau becomes a whirlwind of activity: learn to play the ukulele or dance the hula, and even try your hand at weaving baskets using coconut leaves.
As the sun sets, the buffet opens to an array of mouthwatering dishes that will satiate even the most demanding appetites. The fun continues as you are guided to your seats, which are allocated based on the package you choose. The evening then unfolds into an unforgettable show, where the island's best performers captivate you with their skills. Whether you're watching the mesmerizing hula dancers, listening to the talented musicians, or marveling at the daring fire dancers, each moment at the Aloha Kai Luau offers a slice of the authentic Hawaiian spirit. Don't forget that the Silver & Gold Luau packages also include access to the Sea Life Park, making the experience even more enriching.
Highlights:
Join in on fun cultural activities and games
Savor a mouthwatering dinner buffet
Access to Sea Life Park with Silver and Gold packages
Multiple price points available
Duration: 2-3 hours
Location: Near Waimanalo Beach
Germaine's Luau, situated just 27 miles from Waikiki, offers a charming and nostalgic journey into Hawaii's past. Since 1976, this celebrated event has been offering its guests an unparalleled dining experience on the picturesque shores of West Oahu. Prepare yourself for an evening filled with joy, delicious food, and remarkable beauty. Upon your arrival, you are warmly welcomed by your hosts, who present you with a traditional shell Lei—an emblematic gesture that immediately immerses you in the authentic Hawaiian culture.
The luau, a traditional Hawaiian feast, is named after the young taro top cooked with coconut cream, chicken, or octopus. This iconic dish has been a staple at Hawaiian celebrations since the 1800s, symbolizing communal unity and respect for the gods. While the religious origins have diminished over the years, the term 'luau' now encompasses all Hawaiian celebrations that include feasting and entertainment. Germaine's Luau faithfully mirrors this tradition, providing an atmosphere of joyous celebration and communal bonding that leaves a lasting impression on every visitor.
Highlights:
A buffet that blends traditional Hawaiian and American-style cuisine
See the chefs prepare a whole kalua pig
Enjoy a beachfront location with stunning views
Transportation options from Waikiki are available
Duration: 2-3 hours
Location: In Kapolei
The Mauka Warriors Luau offers a unique journey into the heart of Polynesia. Unlike any other, this event delves into the fascinating history of wars and warriors, an integral aspect of Polynesian culture that is often overlooked. Nestled amidst the breathtaking views of Honolulu, this luau is an event steeped in authenticity and beauty, allowing you to see and experience the captivating stories and customs of Hawaii's indigenous population.
You'll also be taken on a culinary adventure with a traditional Polynesian feast that is a delight to the senses. The interactive performances are more than just entertainment; they are a vibrant showcase of the diversity and richness of Hawaiian heritage. A highlight of the event is a visit to the sacred site of the Battle of Kipapa, adding depth and meaning to your cultural exploration. The Mauka Warriors Luau is not just a destination, but an unforgettable journey into the heart of Polynesian culture.
Highlights:
Visit the historic site of the Battle of Kipapa
Learn about the wars and warriors that shaped Hawaii
Feast on traditional Polynesian foods
Enjoy incredible live music and entertainment
Duration: 2-3 hours
Location: The Hawaii Country Club in Wahiawa
Just a 35-minute drive from the heart of Waikiki, you'll find yourself amidst the spectacular surroundings of Wet'n'Wild, home to the Chief's Luau. This unique luau presents an experience unlike any other, under the stewardship of the internationally acclaimed Chief Sielu. The luau stands out not only for its scenic backdrop but also for being the highest-rated luau in Hawaii on both TripAdvisor and Yelp – a testament to its unparalleled quality and entertainment value.
Produced by Chief Sielu Avea, the original World Champion Fire-Knife Dancer and an entertainer who has earned a reputation for being the best and funniest in the South Pacific, the Chief's Luau offers an evening steeped in Polynesian culture and enjoyment. You'll have the opportunity to immerse yourself in the islands' rich heritage, sip on a Mai Tai, indulge in a lavish Hawaiian feast, and end the day with a captivating Polynesian show. It's an experience that combines tradition, humor, and exceptional performances into a truly memorable evening.
Highlights:
Multiple price points available
See an authentic Imu Ceremony
Exceptional live entertainment and music
Cultural activities available for your enjoyment before dinner
Duration: 2-3 hours
Location: Wet 'n' Wild Hawaii in Kapolei
A visit to Hawaii is incomplete without partaking in a traditional island luau, and while many options abound, only Paradise Cove Luau offers more than just an incredible dinner. Set on the scenic coastline of Waianae, an hour's drive from Waikiki, Paradise Cove gives guests an exceptional opportunity to marvel at the sunset while strolling through a traditional Hawaiian village.
Paradise Cove Luau is a comprehensive cultural experience that encompasses a coconut tree climbing demonstration, a hukilau ceremony, and a kalua pig ceremony, giving you a glimpse into ancient Hawaiian culture. Participate in games, watch hula performances, enjoy contests and sports, and later, feast on a lavish spread accompanied by more dancing, song, and merriment. The true essence of Hawaii is encapsulated in these experiences, leaving you with lasting memories of the Oahu's rich, vibrant culture.
Highlights:
Enjoy Hawaiian crafts, games, and cultural activities
Participate in a hukilau ceremony
Amazing live entertainment with talented dancers and musicians
Multiple price points to choose from
Duration: 2-3 hours
Location: Paradise Cove near Kapolei
BEST THINGS TO DO ON OAHU
The sheer number of things to do on Oahu is enough to make even the most organized traveler's head spin. With that in mind, we've narrowed down Oahu's musts so that you can experience the extent of "The Gathering Place's" wonder: