A Historical Marvel and Window to Hawaii's Past
Downtown Honolulu may flourish with stunning sites but a mere glimpse of 'Iolani Palace might linger with you for a lifetime. Grand and sumptuous, the gorgeous structure was built in 1882 to house the islands' monarchy; today, it serves as a portal into Hawaii's history—and rivets most eyes that pass by it.
Situated in the capitol district, 'Iolani Palace was the last King of Hawaii's labor of love. Constructed on the same grounds that long held the islands' ali'i, that final ruler—David Kalakaua—took the humble place and fashioned it into a contemporary castle. "Palace" is no misnomer here, either—even if a fortress in the center of a city is one of the last things you'd expect to find in Hawaii. Designated a National Historic Landmark in 1962, and going down in history as the only royal residence in the U.S., 'Iolani Palace has since been meticulously restored as a museum to showcase what life was like before Hawaii's annexation.
Kalakaua, who was christened "The Merrie Monarch" for bringing hula back into the public realm, had the mansion created for he and his wife, Queen Kapi'olani. He was famed for his penchant for dancing, and docents at what has become one of Hawaii's most important museums are keen on revealing it. They ask you to imagine for a moment the sound of the Royal Hawaiian Band playing; to see elegantly-attired men and women sweeping through the ballroom. (Kalakaua also had a proclivity for eating and drinking—when entertaining guests at breakfast, he would start at 9:30am and end at noon—and once hosted a feast for some 5,000 people.) It's a fitting request: While Hawaii may be known for its hibiscus prints and palm tree motifs, 'Iolani Palace's décor was a downright novelty when it opened. Designed primarily by architect Thomas J. Parker, it was planned with both Italians and native Hawaiians in mind. Newspapers at the time dubbed it "American Florentine," which visitors can still see today in its dark rep drapes and carpets (among its other evocative details).
At the time of its inception, the palace, which translates to "bird of heaven" in honor of King Kamehameha V's late brother, was built to the tune of $360,000—an extravagance that was far different from the simplicity of Kalakaua's forbearers. And it wasn't just the sturdy furniture ordered from Boston, either: 'Iolani Palace had electricity before the White House; Thomas Edison—literally—showed the King how lights worked on a visit Kalakaua took to New York City. The staircase at the palace's entrance is comprised of koa. When it opened, it boasted intra-house telephones and modern plumbing. Chandeliers hang from its reception hall; the palace's bathtubs are encased in wood and lined in copper. Kalakaua even had two ice cream makers installed. Gold takes over in the aptly-named Gold Room, where music was relished by the King and his family members and guests. (23-karat gold thrones also adorn the Throne Room.) All of this—and more—represents Hawaii at its height, a way of showing the world that its monarchy was formidable and deserving of its own rightful place among global powers. This is underscored again in the dining room, where the palace's original crystal and china are fixed around a table that once saw dignitaries and luminaries, including Robert Louis Stevenson, who, later, in a letter to a friend, said Kalakaua was "a gentleman of courtly order and much tinctured with letters."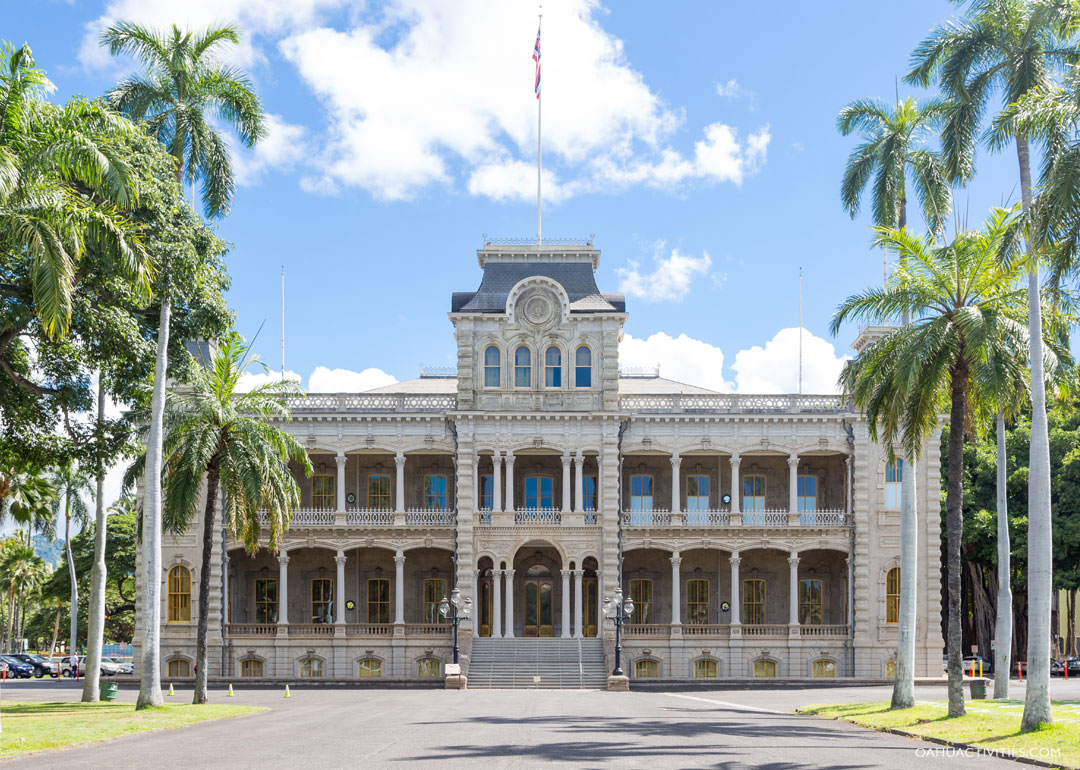 Ascend to the second floor, however, and a different kind of mana is felt in the dim light of the palace's Guest Bedroom. It was here that Kalakaua's sister and successor, Queen Liliuokalani, was held captive for eight months following her conviction of treason. The imprisonment took place four years after her brother's death, when a group of businessmen and planters overthrew her tenuous regime and made the palace the seat of a provisional government—marking the close of the Kalakaua Dynasty and the end of Hawaii as being ruled by Hawaiians.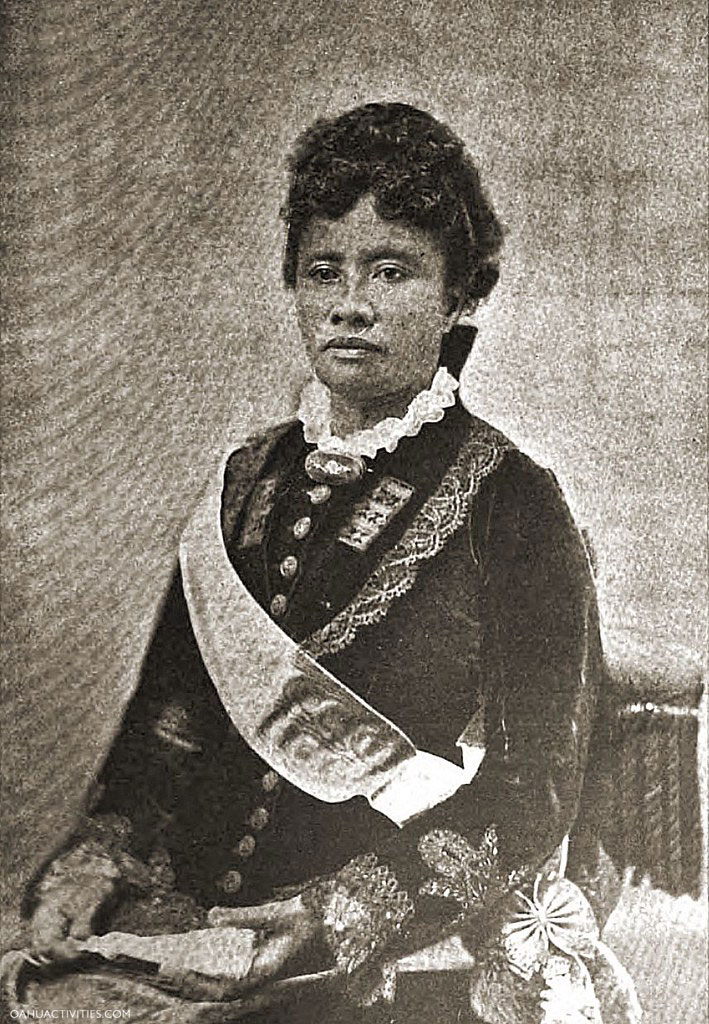 In the years that followed, 'Iolani Palace operated as the home of the Territorial Government before it became the capitol building after Hawaii joined the Union in 1959. After falling into disrepair, complete with termites, the capitol building was moved into a new structure just inland. The palace's multiphase restoration, meanwhile—and the return of its furnishings and objects—began at the hands of Friends of 'Iolani Palace, a band of volunteers created by Kalakaua's great grandniece, Abigail Kawananakoa. In 1978, it was opened as a museum in tribute to Hawaii's intricate history—and a bastion to the islands' bold spirit.
Visitors to the palace today are granted a docent or self-guided tour of its interior, which includes dramatic portraits of Hawaiian royalty and ancient regalia (think: swords, crowns, precious jewelry, and feather lei). They're also given access to the palace's luxuriant grounds, where banyan and flame trees share space with palms and lauhala. (The land here reaches back to antiquity, and is believed to have once housed a heiau, or place of worship.) In addition to being open Monday through Saturday from 9am-4pm, free concerts are offered most Fridays by the Royal Hawaiian Band—a group of musicians whose roots trace back not only to Kalakaua but also to King Kamehameha III. Those intent on getting an even more in-depth understanding of 'Iolani Palace and its era of change can do so through the museum's complimentary Na Moolelo Lecture Series, wherein historians, Hawaiian culture experts, and museum professionals come together to discuss Hawaii's history and the museum's practices. 'Iolani Palace further offers quilting classes on Saturday mornings from 9:30am to noon; no experience is required. Special events—including fashion shows and fundraisers—are also held throughout the year. And if you can't wait to see the historic site before your trip to Hawaii, do know that 'Iolani Palace is the first museum in Hawaii to offer internet users a 3-D virtual tour of its exquisite interior, which you can navigate at your own pace. In the spirit of Kalakaua's independence, whether or not you do so on "island time" is wholly up to you. ~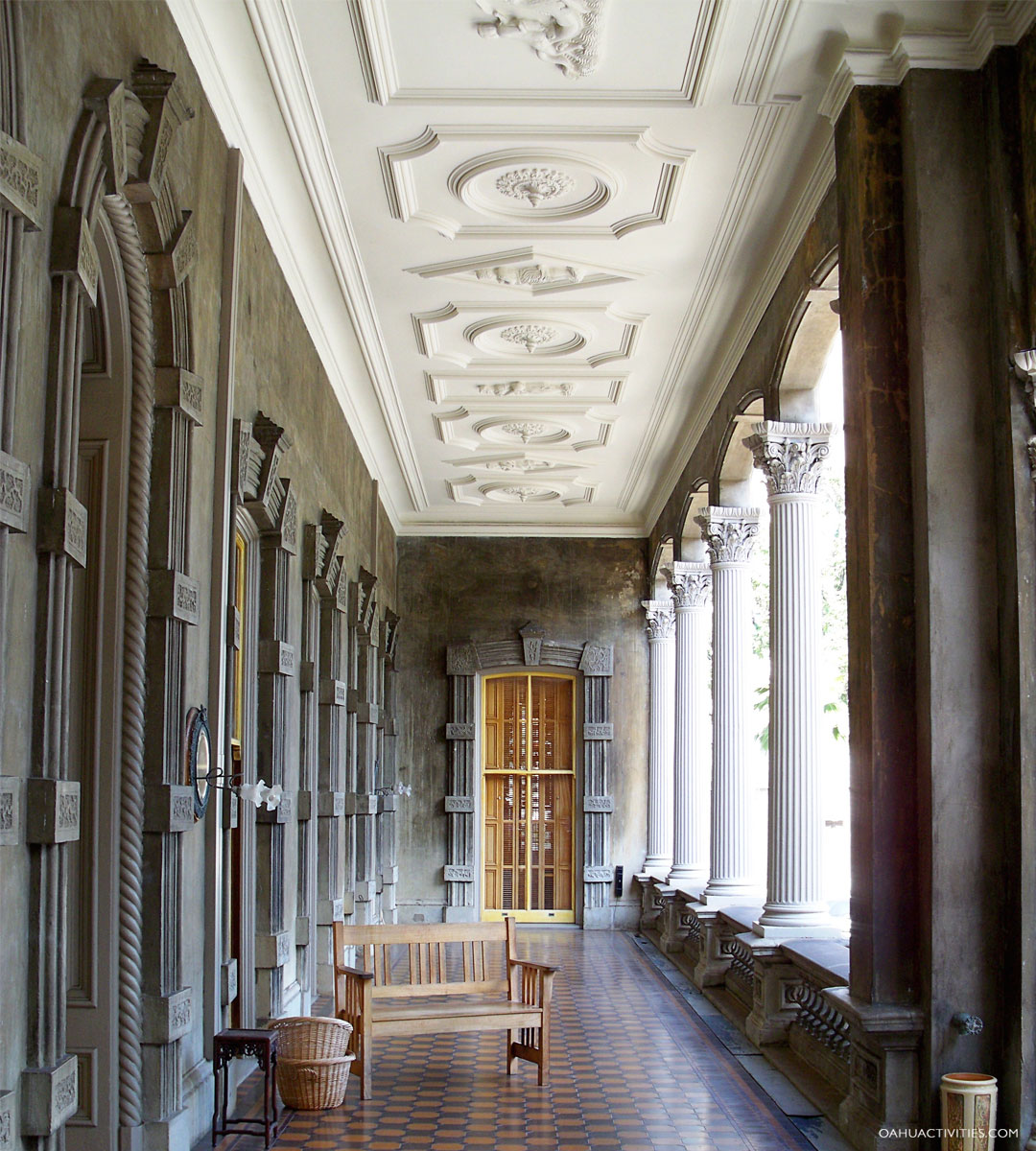 BEST THINGS TO DO ON OAHU
The sheer number of things to do on Oahu is enough to make even the most organized traveler's head spin. With that in mind, we've narrowed down Oahu's musts so that you can experience the extent of "The Gathering Place's" wonder: