To put the spirit of "Mālama the ʻāina" into practice, we are mindful of our environmental footprint during each of our tours. We offer eco-friendly transportation and promote responsible travel.
As we weave stories of Hawaii's rich history and vibrant culture, we encourage our guests to respect the land and its traditions, just as the ancient Hawaiians did. We firmly believe that by maintaining this balance, we can continue to showcase the unspoiled beauty of Hawaii, creating memorable experiences for all our guests. Join us on this journey as we share the aloha spirit and the wonders of our beloved islands.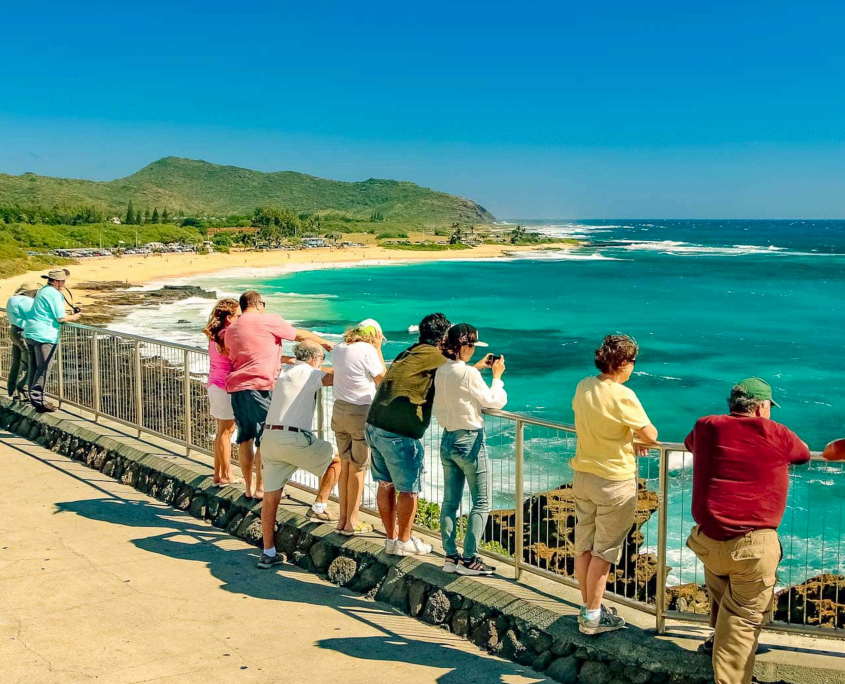 Oahu Activities Mission Statement
At Oahu Activities, we are dedicated to curating authentic and unforgettable experiences for our guests. Our commitment lies in offering customized, small-group tours led by knowledgeable guides.
We place a high value on the well-being of the environment and local communities. That's why we collaborate with partners who offer sustainable tours, ocean-friendly restaurants, local cuisine, farm-to-table luaus, and eco-conscious hotels that have earned the esteemed Green Business Award designation. Our goal is to continue building a company that not only provides enriching experiences but also creates sustainable career opportunities within Hawaii's thriving tourism industry.
Providing tailor-made tour experiences has been the signature of Oahu Activities since its inception. Whether you prefer a personalized adventure or a curated itinerary, both options are available on the captivating island of Oahu as well as on tours originating from the outer Hawaiian Islands.
We cater to visitors of all group sizes, no matter which island you start your journey from. Our team can arrange airfare and transportation as needed, ensuring a seamless travel experience. Moreover, we offer an exclusive hotel pick-up service on Oahu for added convenience. For those seeking to explore destinations beyond Hawaii, we also offer customized travel packages to captivating locations like New Zealand and the Asia-Pacific region. Simply let us know and we'll be delighted to provide further details!
Our utmost goal is to ensure that you have an extraordinary time during your dream vacation in Hawaii. We aspire to be your trusted resource for planning activities on your future trips to the Hawaiian islands, fostering a desire for you to return to our tropical paradise time and again. Join us on this incredible journey as we explore the unforgettable wonders of Hawaii together.