8 Gorgeous Beaches to Get Married on Oahu
Dreaming of tying the knot in a stunning Hawaiian ocean setting? At Simple Oahu Wedding they don't just know how to help you fulfill your desires for your big day—they also know the most breathtaking spots to hold your nuptials.
Here are 8 of the best beaches to get married on in Oahu:
If you're coveting Hawaii's immaculate sand and turquoise waters, then Waimanalo Beach will exceed your expectations. Measuring just over three miles long, this beauty is the longest uninterrupted white sand beach on Oahu. The lush Ko'olau mountain range that overlooks the glistening bay adds to the site's enchantment. Located on the windward (or East) side of the island, and relatively uncrowded—especially when compared to buzzy Waikiki—it's the ideal spot to hold your wedding in near-quiet. What's more, honu—or Hawaiian Green Sea Turtles—frequent Waimanalo's clear-as-glass waters. Best for morning or sunset weddings, it can accommodate both small and large groups of guests.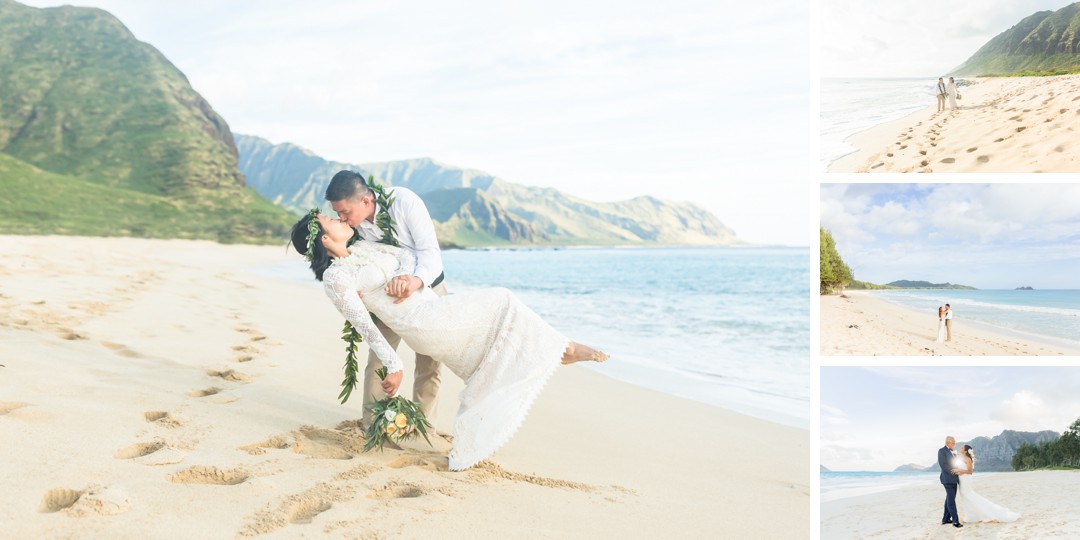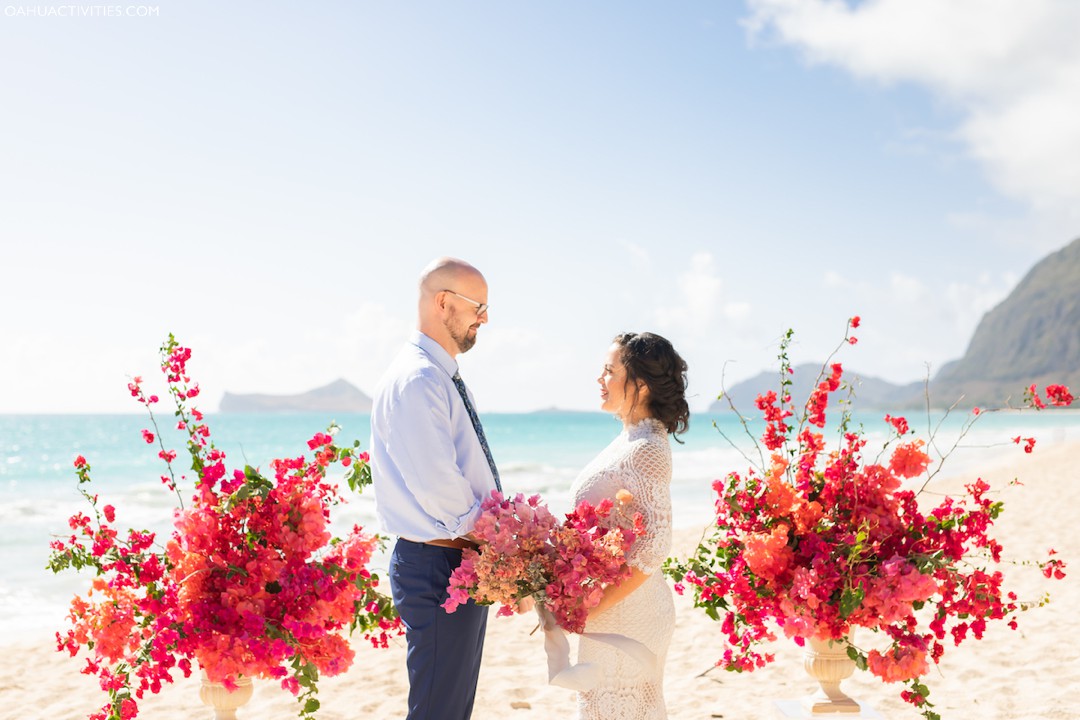 Waialae Beach Park has dozens of pluses. Beyond its obvious splendor—think: golden sand, aqua waters, plenty of palm trees—it's located just three miles outside of Waikiki, rendering it one of the most convenient spots to get married if you and your crew are staying on Oahu's South Side. And yet, as close as it may be to the liveliest enclave on the island, Waialae Beach Park tends towards the peaceful and quiet. (Keep in mind, however, that beach traffic picks up on the weekends—meaning, this is a great setting for weddings that take place Mondays through Fridays.) Further, it supplies awe-inspiring views of the Koko Head mountain range and miles and miles of coastline. Photo opps abound at this charming locale, from canopies of Hau trees to a small bridge to a tiny, outlying (manmade) island. Ideal for both morning and sunset weddings, Waialae Beach Park also has a number of essential facilities.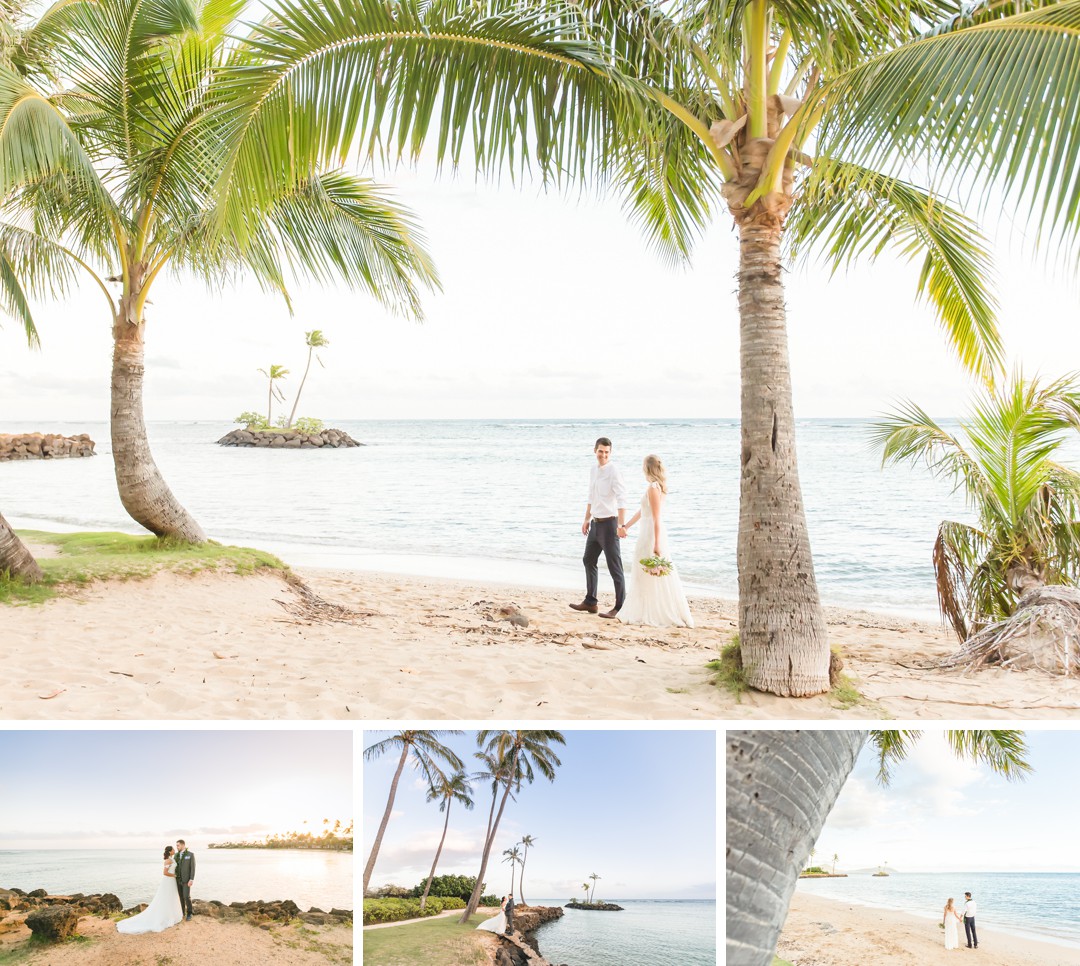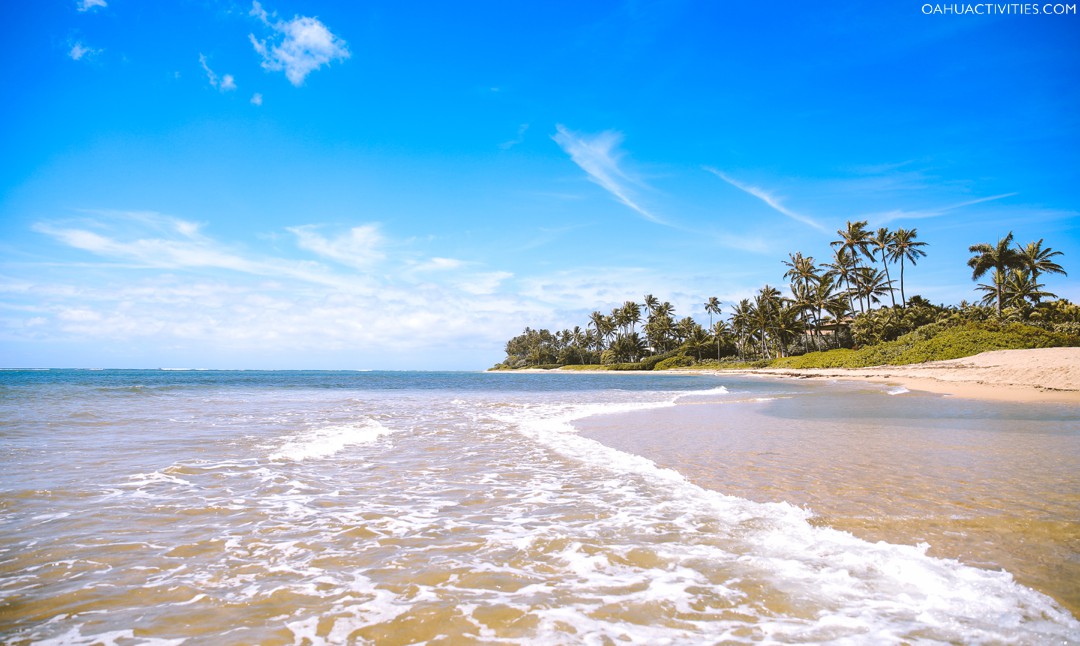 3. Yokohama (Keawaula) Beach
Tucked along the coast on one of the remotest regions of Oahu, Yokohama Bay—or Kewaula Beach—offers glorious views from every direction. "Pristine" may be the first word that comes to mind when arriving at this gem—the beach and surrounding area, on the northernmost point of Oahu's leeward side, are untouched by development. Yokohama's extensive sandy beach is often unpopulated, its lava formations are exquisite, and all of it is outlined by the verdant Waianae range. Perfect for couples who love getting off the beaten path, this is an excellent place to host a wedding at either sunrise or sunset.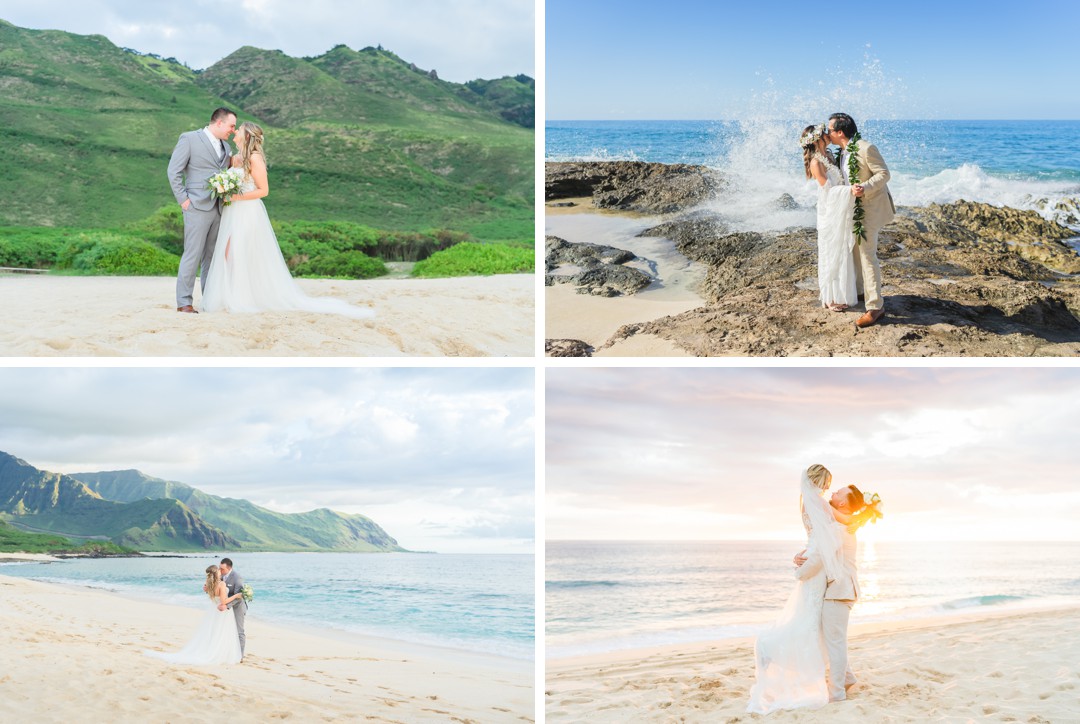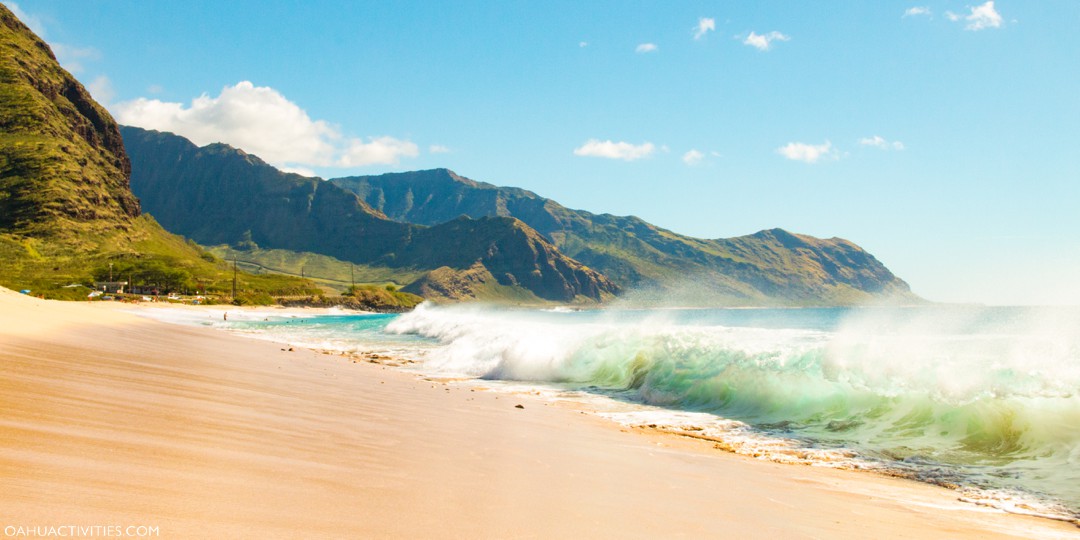 4. Haleiwa Alii Beach Park
If Oahu's legendary North Shore has always called to you, consider Haleiwa Alii Beach Park the site to say "I do." Why? Not only is this splendid beach part of what surfers call the Seven Mile Miracle (translation: one of the island's best surf breaks), it's also located near Haleiwa—a bohemian, historic town renowned for its chill vibe and local culture. As for the beach itself: It sprawls across roughly 19 acres and features grassy lawns, buttery sand, and beautiful palms. While terrific for both morning and sunset weddings, do note that this location incurs a $200 travel fee.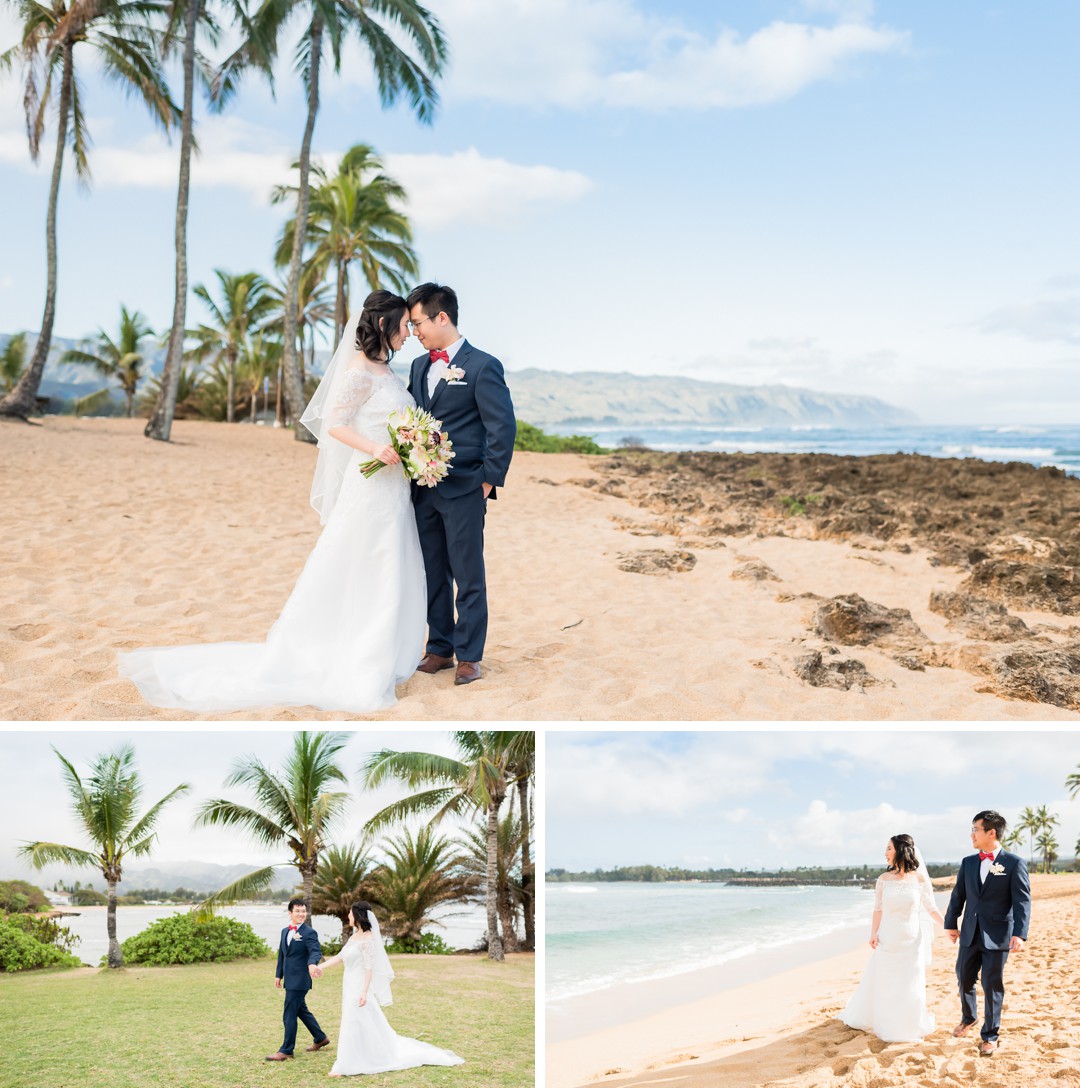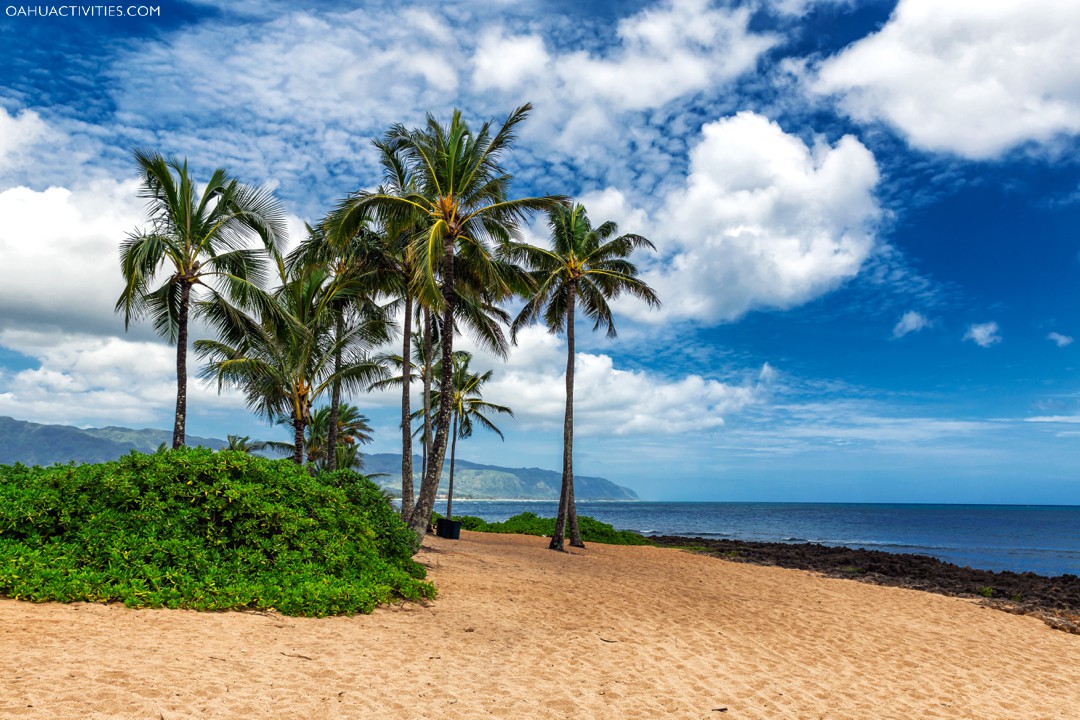 5. Paradise Cove – Ko'olina
Whether your wedding will be a private elopement or a grand affair, Paradise Cove—Ko'olina offers idyllic scenery. Located at Ko'olina—a notable, sacred site on Oahu's leeward side—it rests at the boundary between Ewa and Waianae next to the Four Seasons Resort at Ko'olina. Traditionally known as Lanikuhonua, the small beach crystallizes serenity. Sweeping views of the Pacific, shimmering tide pools, leggy palms—all enrich its magic. Keep in mind that this lovely cove is best for morning weddings, as at sunset, it holds the uber-popular Paradise Cove Luau.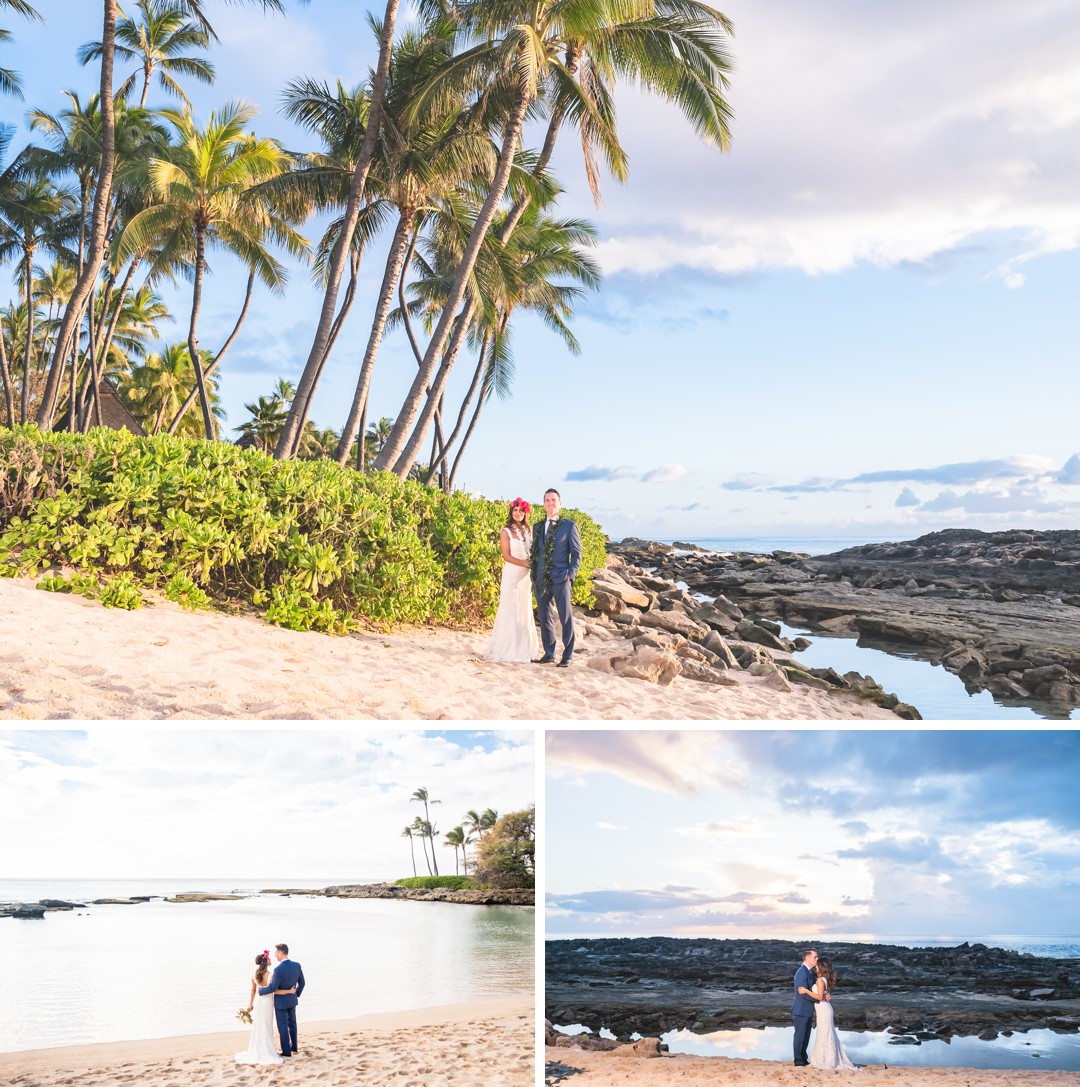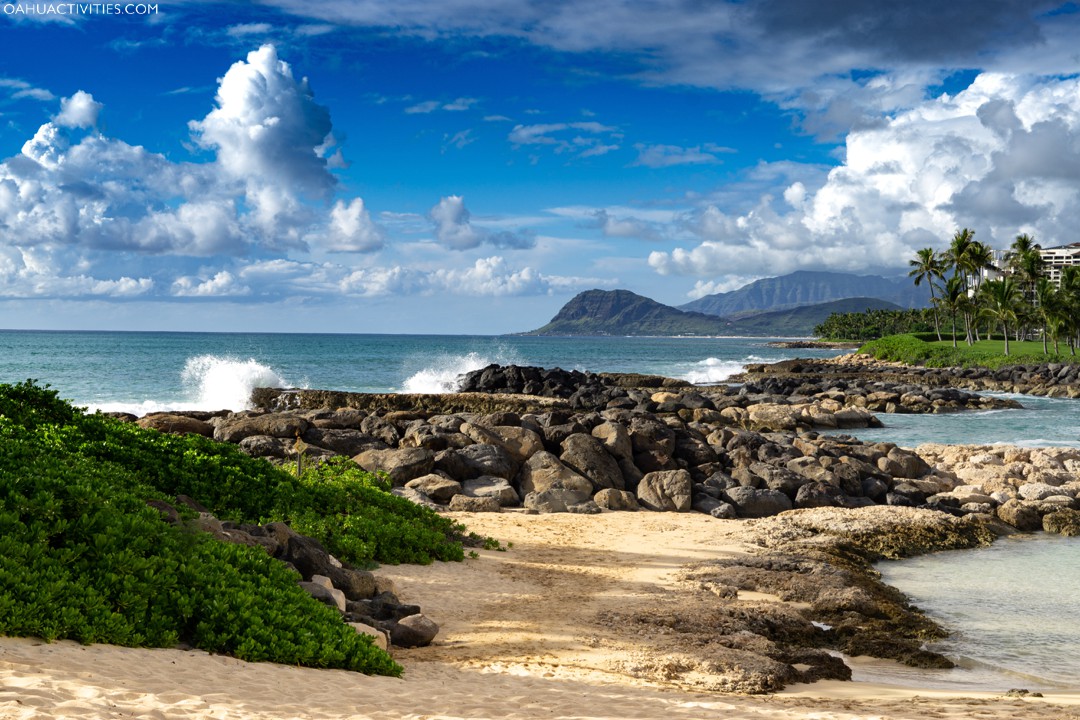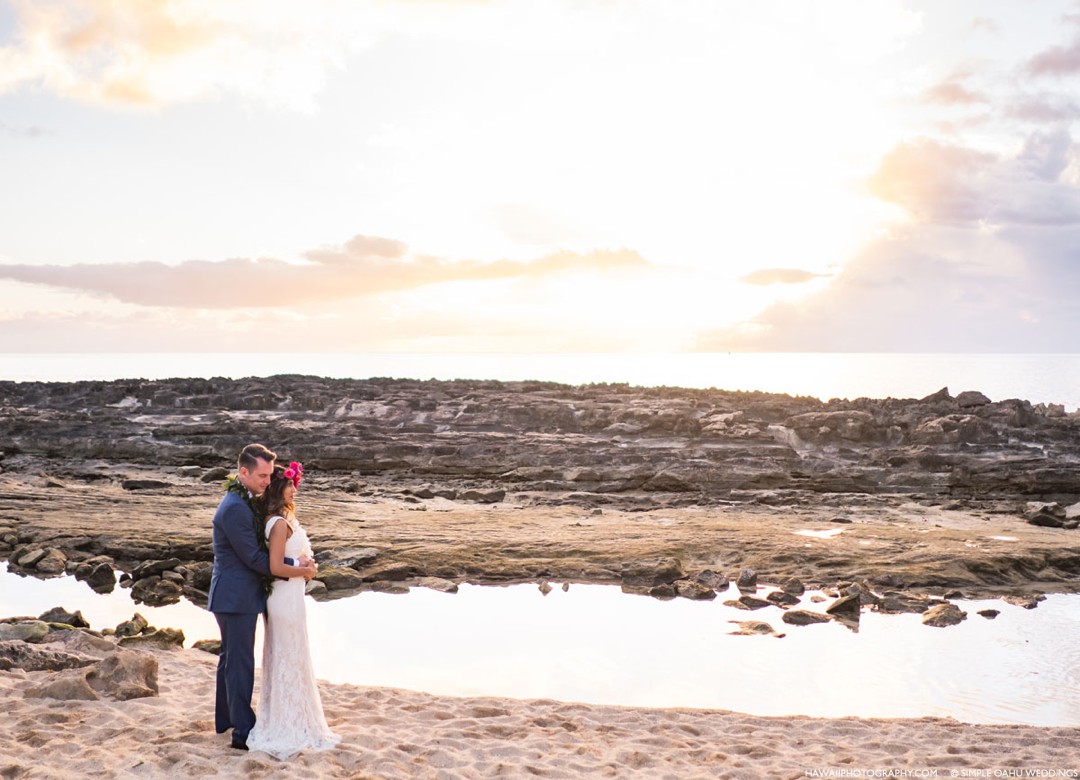 6. Kualoa Regional Park Beach
There's something wonderfully appealing about tying the knot at a park that's listed on the National Register of Historic Places. Kualoa Regional Park Beach is precisely that—and it boasts jewel after jewel of beauty. Framed by the dramatic, serrated Ko'olau Mountains, the beach looks out upon the blue Pacific and the island of Mokoli'i (commonly known as Chinaman's Hat) and features a large, luxuriant lawn. The park itself spans 153 acres and while the place can get busy at times, the beach is big enough to find a quiet corner for your nuptials. Either morning or evening weddings can be accommodated here.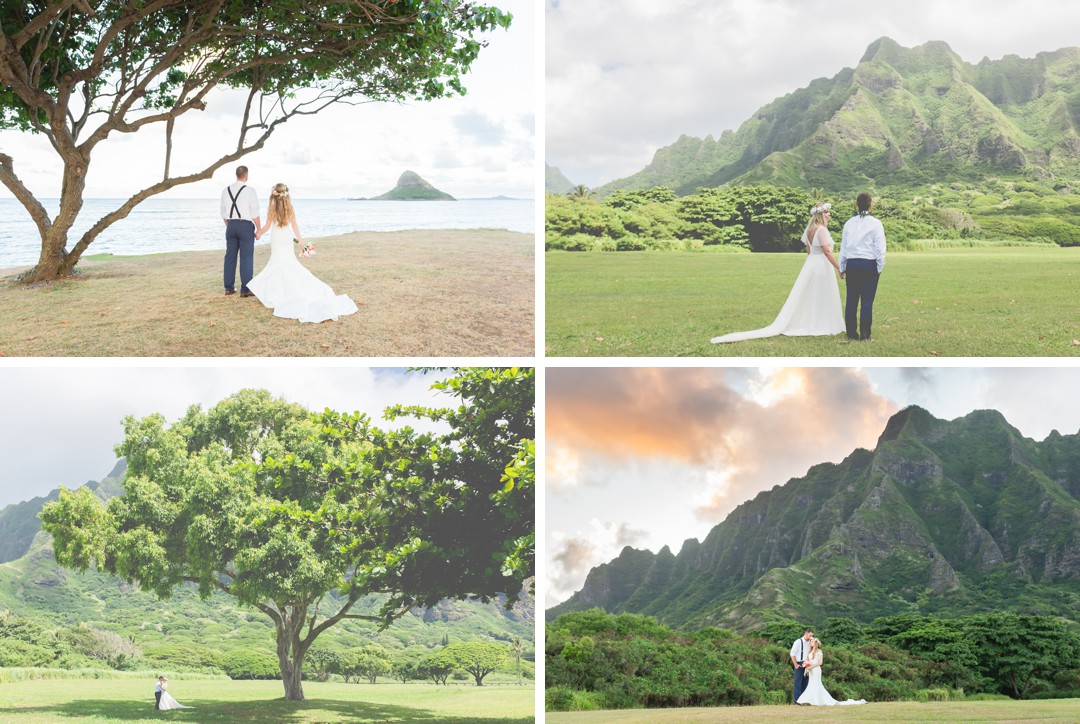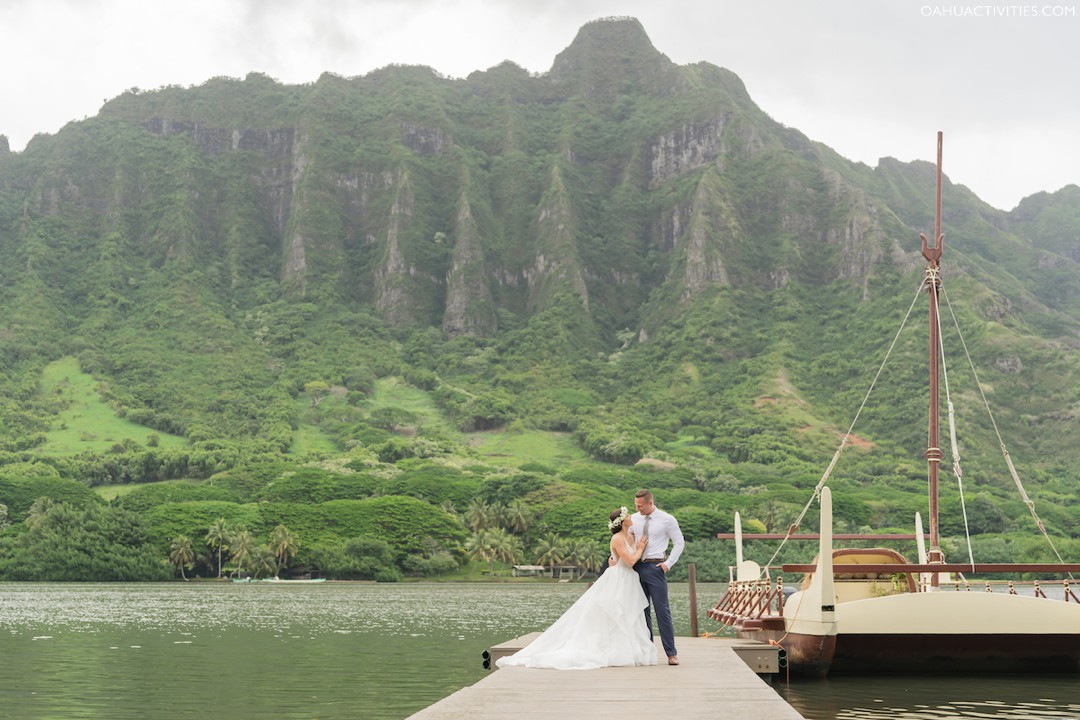 7. Kuilima Cove Beach at Turtle Bay
If it's postcard-beauty you're after, consider Kuilima Cove Beach at Turtle Bay for your wedding. Situated beside the eastern edge of Turtle Bay Resort—one of the prettiest hotels on Oahu—the beach boasts what Hawaii is famous for: White sand, luminous water, groves of bright-green naupaka, and swaying palm trees. Also known as "Bayview Beach," it has a sizable lava outcropping that gives the whole tableau a striking look. What's more, views from this crescent-shaped bay stretch all the way to Kahuku Point, the northernmost portion of Oahu. While great for morning and evening weddings, do know that, as with #s 4 and 7, Kuilima Cove incurs a $200 travel fee.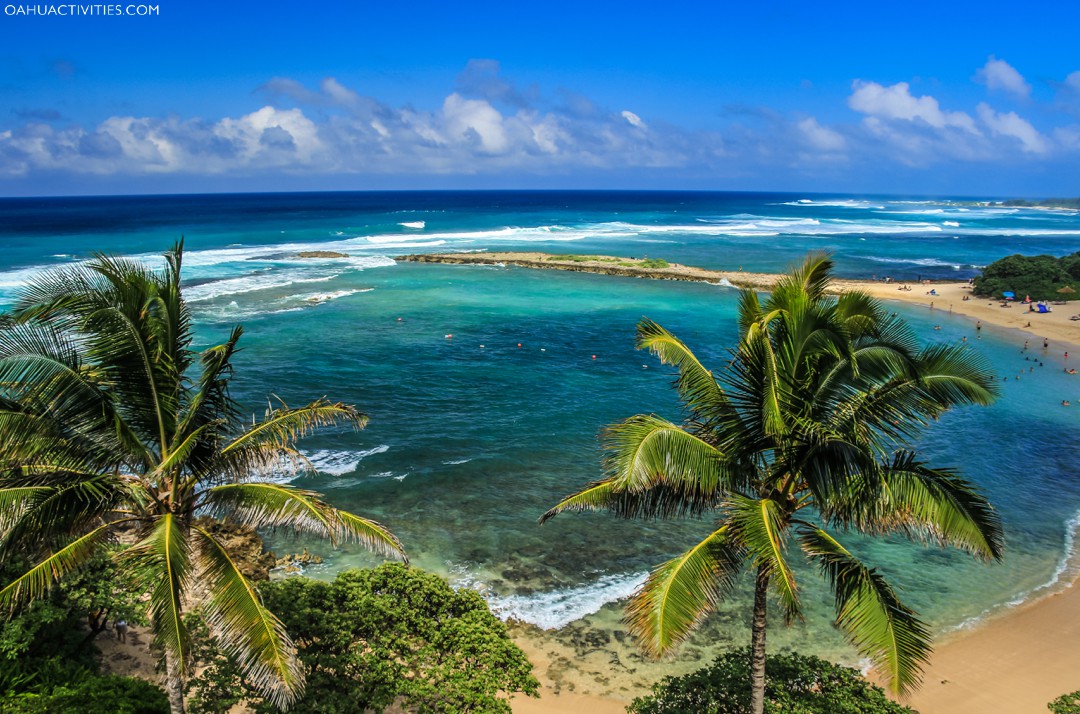 Happen to have been a Lost fan? Then Papailoa Beach might be just right for you and your partner—particularly if you're the type of pair who prefers paths less-trodden. Hidden in an upscale neighborhood in the aforementioned Haleiwa Town, Papailoa was used as the main camp in the popular TV series. For a good reason, too: Its secluded feel, coupled with its stretch of long, unspoiled sand, makes one feel as if they're on the edge of the world. Glimmering tide pools, shoreline reefs, and Hawaiian Green Sea Turtles amplify the intimate mood it evokes. Home to Himalayas—a popular surf break—the beach offers superb views of the ever-changing seascape. Do note, however, that the winter swells here can rock the beach, the wind can be fierce, and it's best for affairs with 15 guests or less, as parking is limited. Whichever venue you choose, we at Simple Oahu Wedding will help you plan your wedding with ease so that the only thing you have to think about is celebrating your love—and the start of your new life.~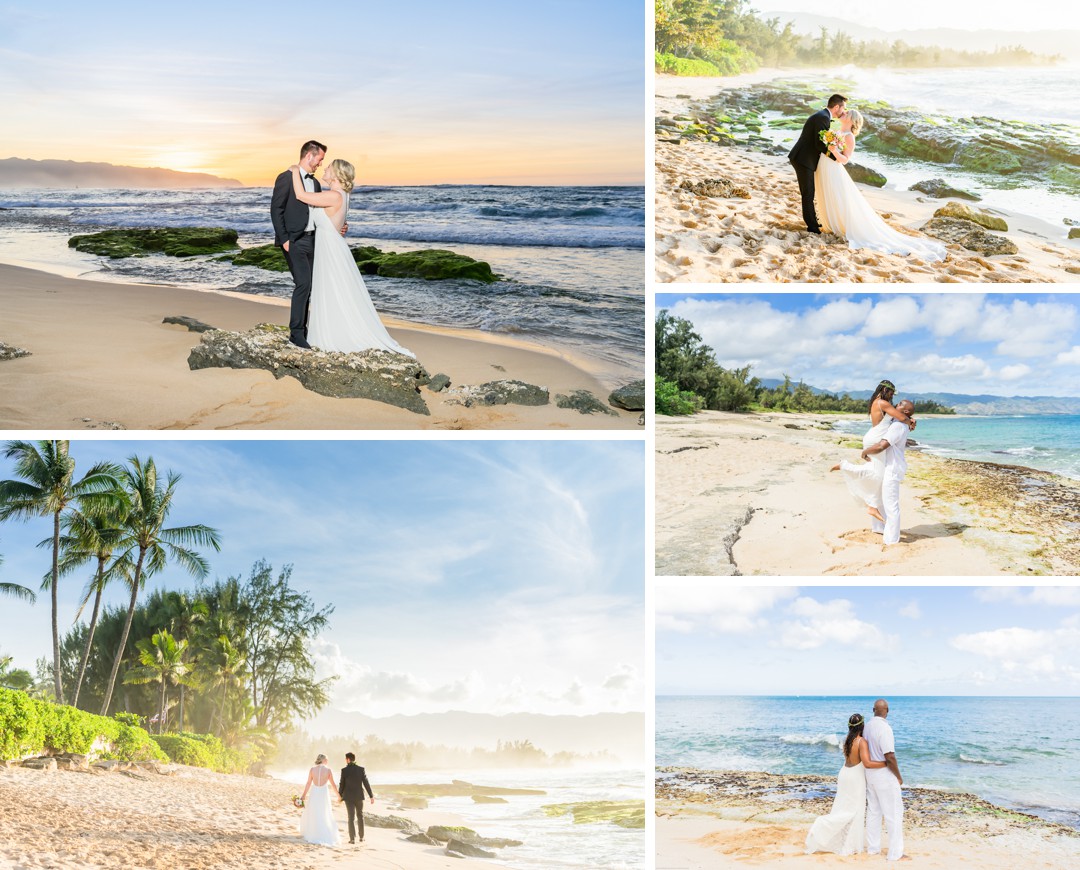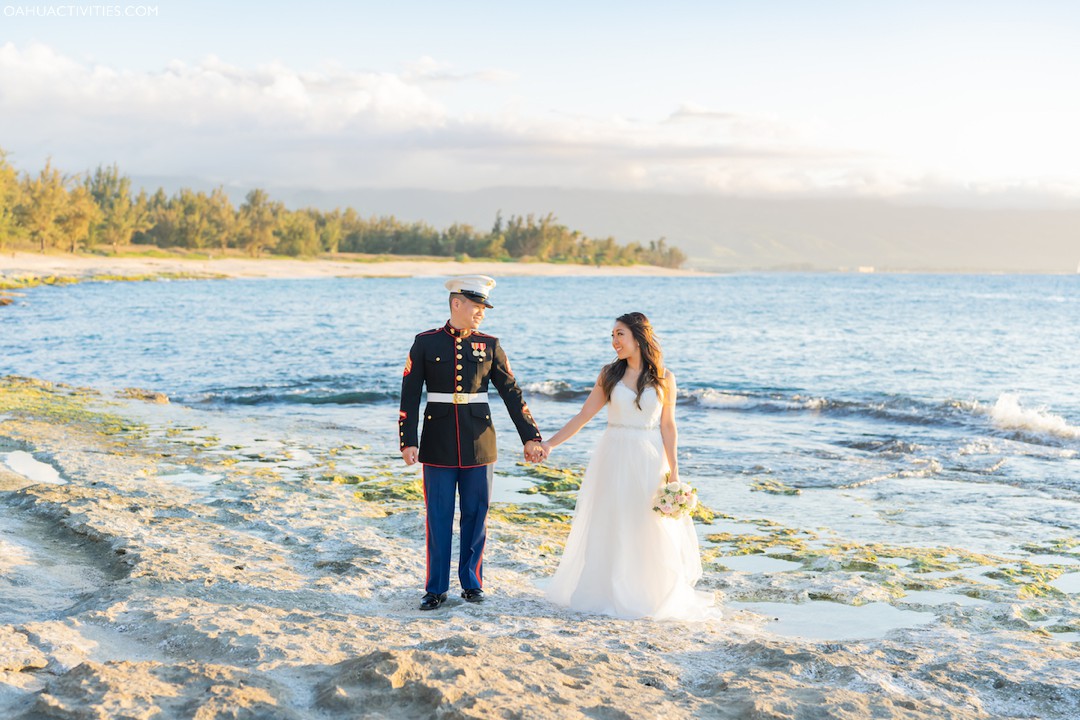 Whether you're jetting off to Oahu to exchange your wedding vows amidst its breathtaking landscapes, looking to capture those perfect wedding photos with a tropical backdrop, or planning to immerse yourself in a romantic honeymoon escape, we've got you covered. Dive into our tour offerings and ensure every moment of your Oahu experience is nothing short of magical.
BEST THINGS TO DO ON OAHU
The sheer number of things to do on Oahu is enough to make even the most organized traveler's head spin. With that in mind, we've narrowed down Oahu's musts so that you can experience the extent of "The Gathering Place's" wonder: