"Keep country, country" may be the motto of Oahu's North Shore but it's unlike any country most people have known—unless, of course, that country is characterized by lush greenery, seductive coves, and some of the largest waves on the globe. Located roughly an hour from "town"—that'd be Honolulu—the world-renowned coast, which stretches 17 miles from Ka'ena to Kahuku Point, provides an inimitable combination of splendor, edge, and charm. Here's the lowdown on all it has to offer.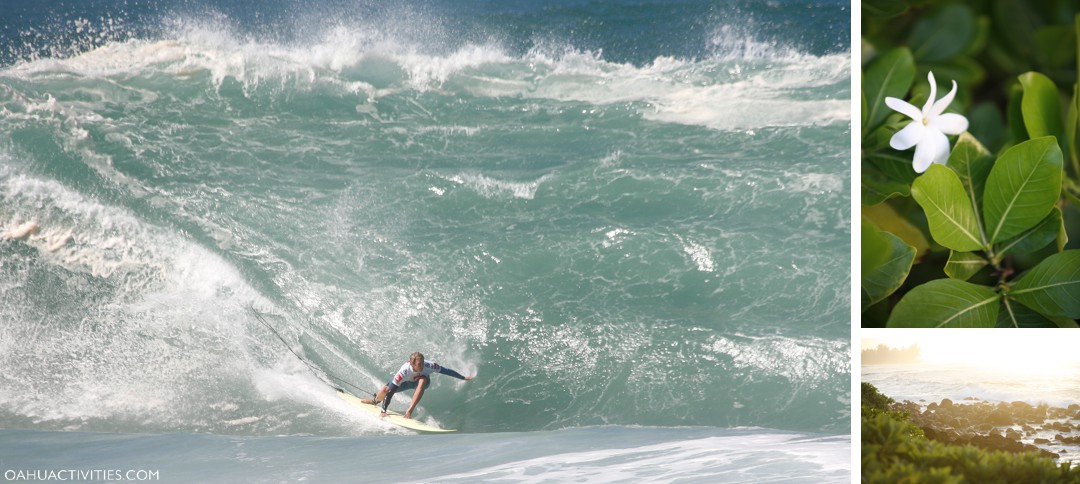 …the surf. Inarguably the surfing capital not just of the Western hemisphere but also in the world, the North Shore boasts some of the most formidable breaks known: Pipeline, Waimea, and Ehukai (aka Banzai Pipeline) are just a few names from its incredible roster. Home to the Billabong Pipe Masters and Vans Triple Crown, these beaches have seen the likes of everyone from modern phenoms Kelly Slater and Adriano de Souza to the legendary Eddie Aikau. It's no wonder: During the winter, the North Shore see swells pummeling in from Japan with waves reaching up to 50 feet. No matter if you've never so much as duck-dived: These kind of breaks should only be braved by pros, and watching them carve is pure, vicarious joy. Bonus tip: If you're daytripping to the North Shore, bring a pair of binoculars to witness the surf from the stop-and-go traffic Kam Highway is notorious for.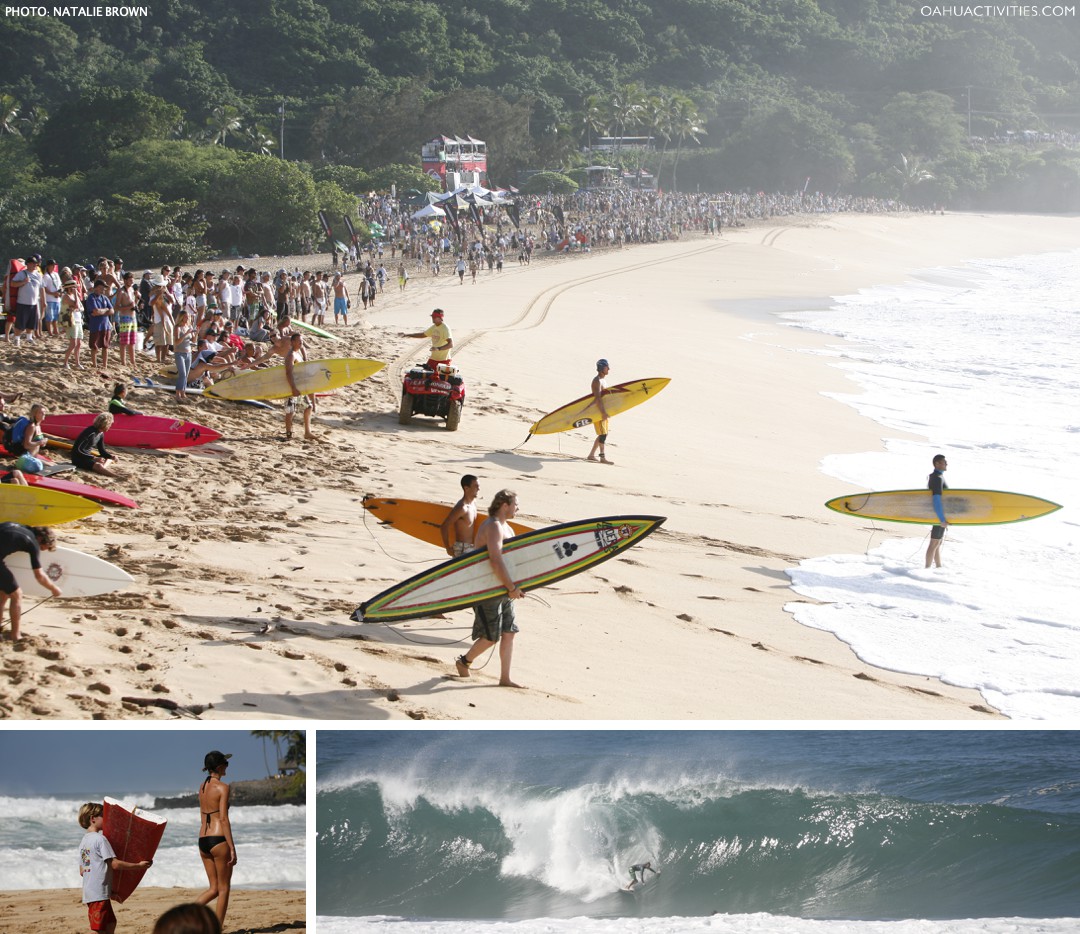 …Pu'u O Mahuka Heiau. Literally translating to "Hill of Escape," this ancient Hawaiian temple is not only the largest on Oahu but also the most intriguing: Believed to be a luakini heiau—a site of ceremonial sacrifice—it was once used to find strength and success in war. Those days may be gone but what remains is its exquisite views and powerful vibes.
…hike through Waimea Valley. Comprised of 1,875 acres, this rainforest park is revered for serving as the gathering place of Hawaii's priests (or Kahuna Nui). That mana is still felt at this verdant spectacle, where burial sites, shrines, and temples remind us that Oahu is about far more than the suave storefronts and glitzy hotels that dominate its south shore. Over 5,000 different plants flourish throughout the valley, providing trekkers with lovely smells and sights as they hike towards Waimea's famed falls. Plan for a dip—the pool at the cascade's base is heavenly.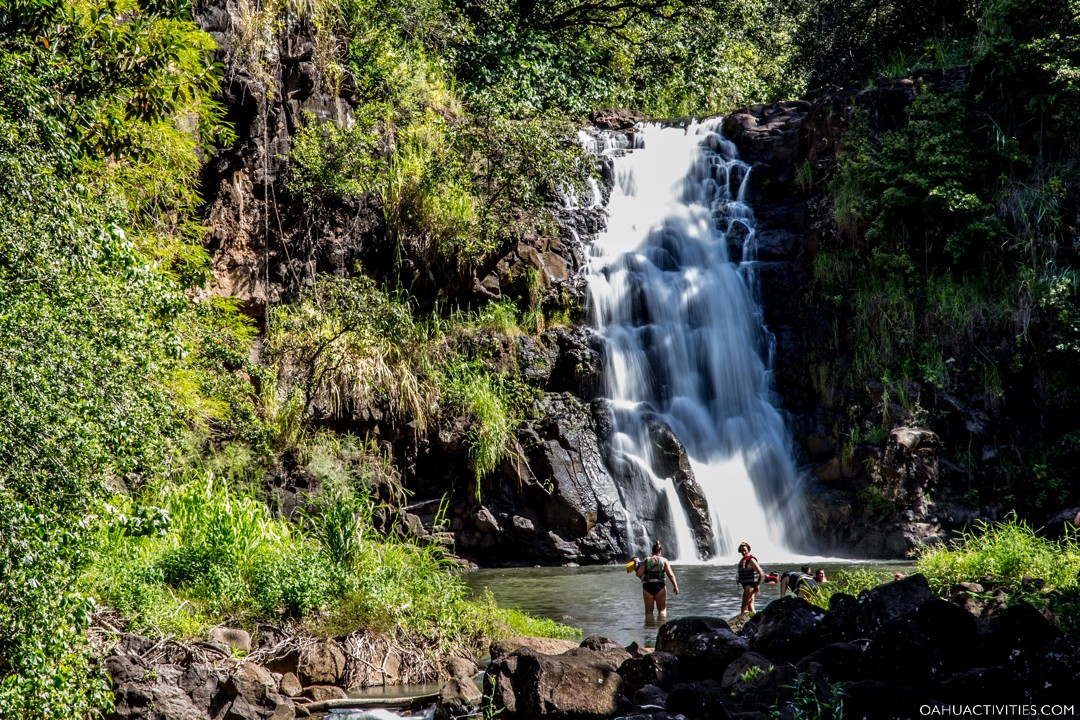 …at Guava. Located in Haleiwa (with another store in Kailua), this uber-cute boutique offers the ultimate in women's swimsuits (Acacia, Mikoh, Tori Praver). Their clothing is just as adorable and sophisticated, with brands ranging from Pon Pon to Tigerlily.
…at the Kahuku Food Trucks. You may see a smattering of food trucks along Kam Highway, but the real delight is found around the curve in Kahuku. Here, shrimp farms (some adjacent) translate to trucks that sell them every which way, with the competition among the three top contenders—Giovanni's, Romy's, and Fumi's—being downright fierce. What they deliver is first-rate, from the super-garlicky butter sauce at Romy's to the simplicity of Fumi's prawns to the uber-fiery "no refunds" hot and spicy shrimp at Giovanni's. Don't despair if crustaceans aren't your thing: this land of restaurants-on-wheels also offers Thai, kalbi, and acai bowls.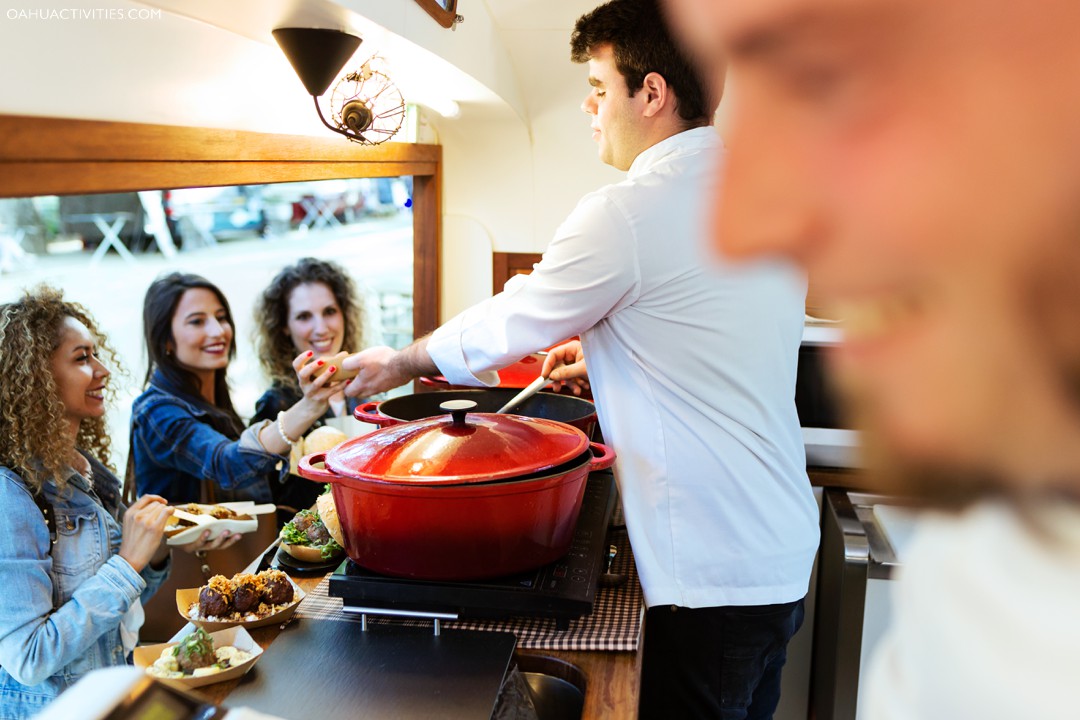 …on your beach body diet at Ted's Bakery. The landmark eatery—which started as the Sunset Beach Store in 1956—has become wicked-famous for its decadent cream pies. While Ted's chocolate haupia is downright orgasmic, the modest, much-loved café also bakes up (and chills out) marvels like strawberry guava, peach Bavarian, pineapple cheese, and pumpkin cream.
…at the Point Sunset & Pool Bar at Turtle Bay Resort. True, true: Nightlife on the North Shore is virtually nonexistent (at least to the general public) but that doesn't mean you can't savor a killer concoction while watching an unforgettable sunset. You'll find both at this celebrated venue, which serves everything from classic mai tais to locally-brewed beer. Happen to be hopping in during morning hours? Lucky you: Their Bacon Basil Bloody Mary is superb.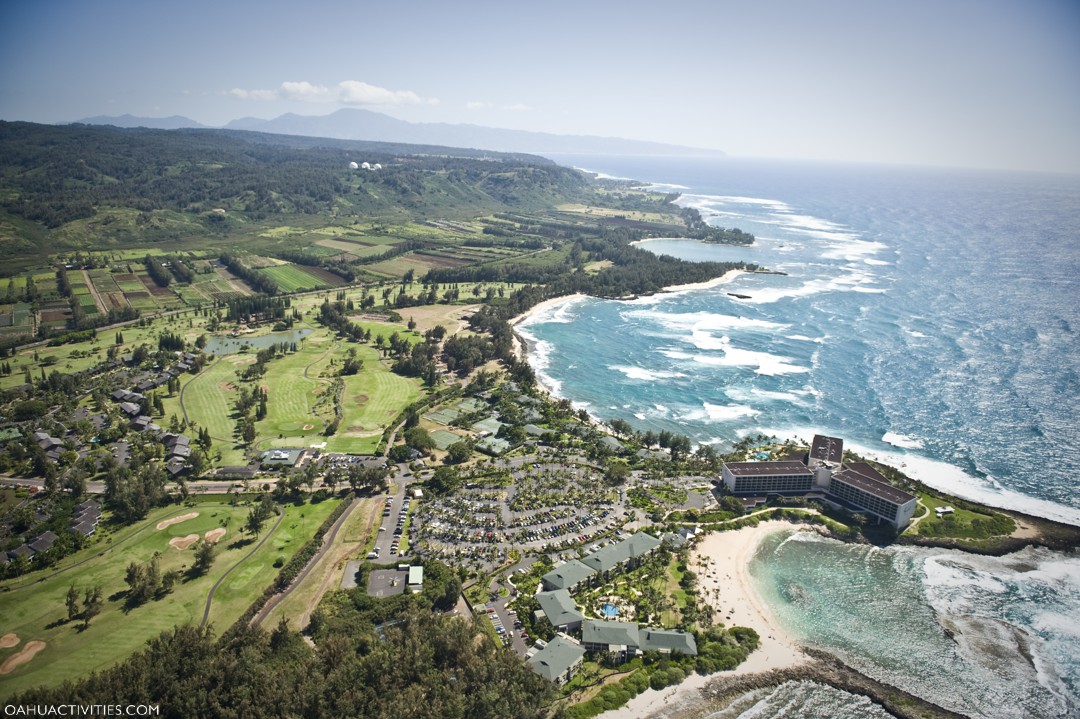 …yourself at the site of "Lost." (Yes, that beach.) Situated near the island's western tip, Mokule'ia Beach presents golden sand, turquoise water, and excellent vistas of the Wai'anae Mountains. Its shallow reefs render it ideal for swimming and snorkeling, while its remoteness, space, and quiet serves as a reminder that you may not be a castaway but you are on one of the world's most isolated archipelagos.
…below the surface sea at Shark's Cove (and don't be dissuaded by its name). Rated as one of the world's top twelve shore dives by Scuba Diving Magazine, this craggy bay, off of Pupukea Beach Park, specializes in dazzling sea life, including damsel fish, eels, turtles, and perch. Rent gear at Haleiwa Surf N Sea and get to know the wonders down under.
…the Ehukai Pillbox Hike trail. With a path that begins across the street from Sunset Elementary School and ends on the mountainside above Ehukai Beach, this steep, exhilarating journey runs through a copse of covered trees before taking you to a World War II bunker whose graffiti is almost as striking as the views of the coastline. Less than two miles, and requiring approximately thirty minutes to ascend, it's the perfect way to get a bird's eye view of Banzai Pipeline.
…up the vibes in Haleiwa Town. A Christian outpost in the 1800s, this beachy village is this country's (albeit bohemian) city; as such it's filled with surf stores, art galleries, and cafés. You can check out "tsunami glass" at Wyland Galleries, grab a pint and fish sandwich at Haleiwa Joe's, grab some picnic supplies at Celestial Natural Foods, see some paddling action at Manu O Ke Kai Canoe Club, peruse the beauties at The Ukulele Site, or snack on poke with sea asparagus over million-dollar views at Haleiwa Beach House. It doesn't matter what you do, really: The ambiance of this laidback town will underscore why the North Shore is this country's paradise.

BEST THINGS TO DO ON OAHU
The sheer number of things to do on Oahu is enough to make even the most organized traveler's head spin. With that in mind, we've narrowed down Oahu's musts so that you can experience the extent of "The Gathering Place's" wonder: