In 2011, 11 food trucks set up shop in Hawaii's liveliest town, luring 1,500 diners to their windows and launching one of Oahu's largest and most exciting festivals.
That event—aptly dubbed Eat the Street—has since become a celebration of Hawaii's bounty, occurring once a month, soaring to 40 vendors, and consistently seeing over 7,000 attendees. (It's also knocked out the sort of numbers that would make even the most successful fetes envious: $22,980,300 spent on local businesses, 801,100 total attendees, and nearly three million "ono grindz" purchased.) Deemed "Oahu's best wheels-with-meals" by Hawaii Magazine, the popular Honolulu event features foods ranging from sea salt caramel mini-donuts to lemongrass chicken banh mi to brisket tacos.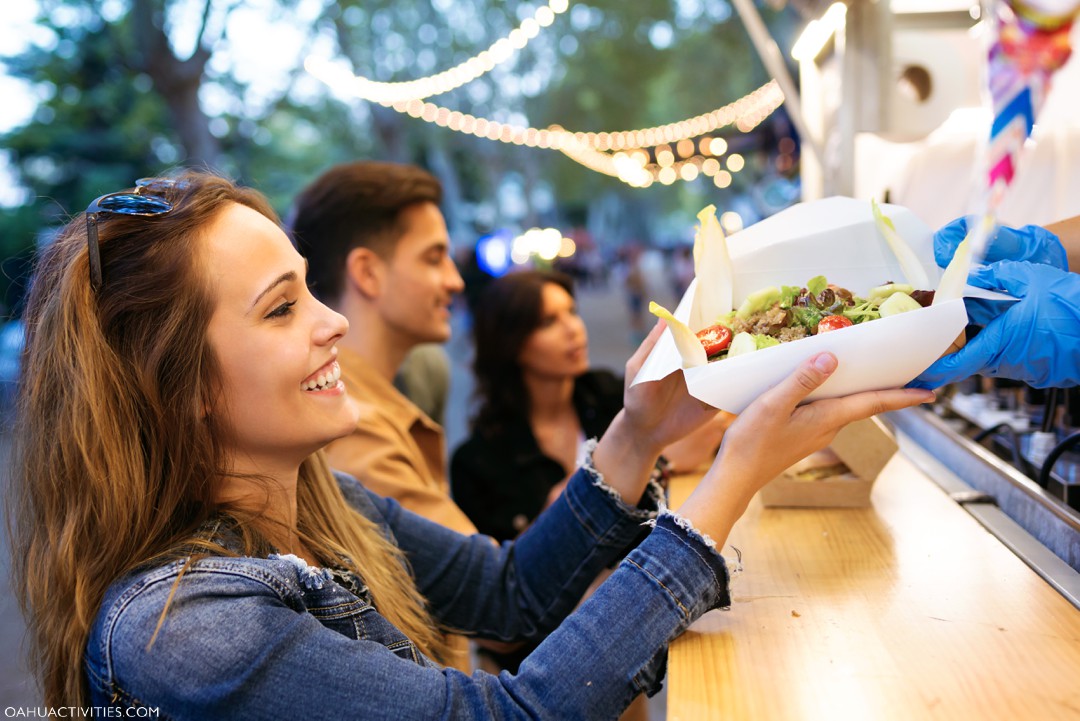 Sound eclectic? Think of it as a microcosm of the diverse cultures that comprise Hawaii. In addition to native Hawaiians, the islands boast Japanese, Chinese, Portuguese, and Filipino communities—and the superb culinary contributions of each.
Also, consider it a sampling of what you may be able to try at Eat the Street's next gathering.
Here's all you need to know about the much-loved foodie fest—and why you should make it a must on your next Oahu holiday:
Eat the Street is helmed by Street Grindz, a food and festival company that's serious about feeding and pleasing Oahu's residents, visitors—and business owners.
"It's really building the community of small local businesses and giving them the venue to show their wears and to show what they can do," the project manager of Street Grindz told Hawaii News Now.
In addition to Eat the Street, the outfit is also the brains behind Honolulu Night Market, Sunset Bazaar, Makers and Tasters, and the Mo'ili'ili Summer Festival.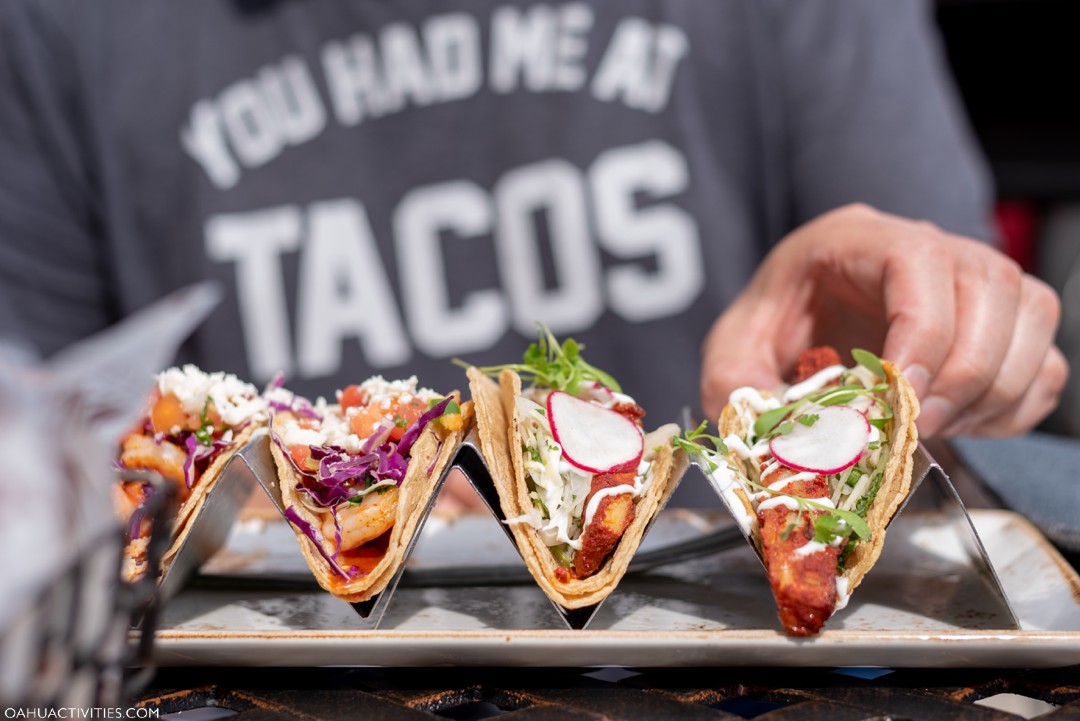 Experience Oahu's Food Scene on a Bike
Don't want to wait or time your trip around this event? Take the Hawaiian Foodie Bike Tour and experience all of the amazing tastes of Hawaii as well as a beautiful bike ride around the Waikiki area.
As mentioned, Eat the Street is a monthly culinary event featuring 40 vendors that peddle some of Oahu's tastiest grinds. Just a few of those vendors (from past events) include Bon Appetit, D'Lish at the Beach, and Tea on Fleek. Each event features live music—such as Tavana and Ponchoman—retail shops, and keiki entertainment like balloon art, face painting, and waterslides. Eat the Street festivals have also seen live "art battles," stellar DJs, and ukulele jams.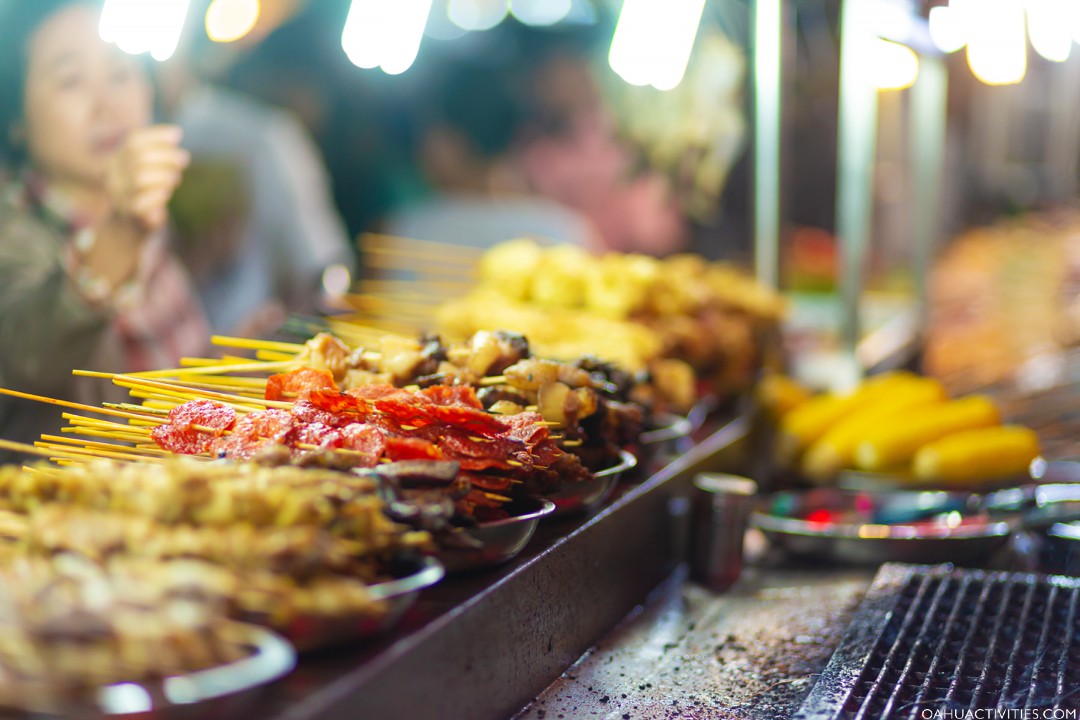 Traditional fried chinese food on sticks at street vendor market.
What began in a small parking lot on Kapiolani Boulevard has since moved to Kaka'ako Waterfront on Ala Moana Boulevard (behind Restaurant Row). The Oahu enclave is a fitting spot for Eat the Street: Kaka'ako was once a flourishing native Hawaiian community that was known for its salt making, fishpond farming, and wetland agriculture. Now, Kaka'ako—which New York Magazine called "Honolulu's Hippest Neighborhood"—has garnered nationwide attention for its street art, local breweries (including the oh-so-good Aloha Beer Company), speakeasies (such as the HI Brau Room), the cult-y coffee store Fishcake, and Mother Waldron Park: a grassy common area that features the latest murals from Pow! Wow! Eat the Street events pop up elsewhere on the island as well, such as at Kahala Mall and in Mililani, Pearl City, Wahiawa, Kapolei, and Kapilini.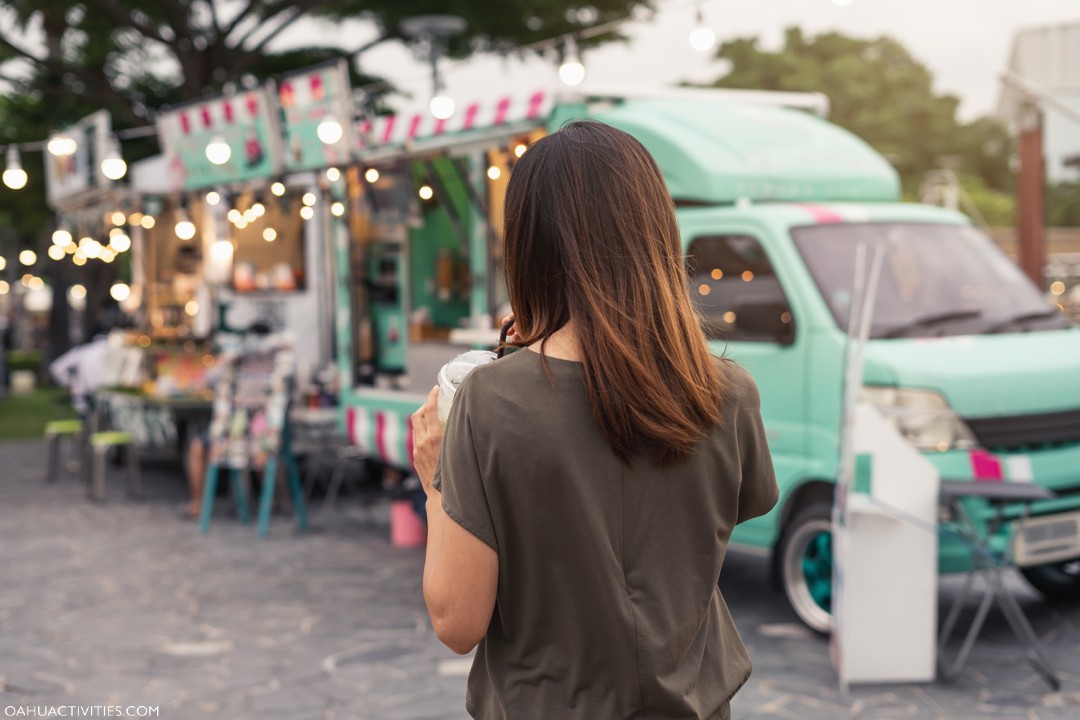 Eat the Street is held from 4pm to 9pm on the last Friday of the month.
…by bringing your appetite, of course—and by keeping an eye on Eat the Street's website and social media accounts. Each month features a theme—from Texan BBQ to the Taste of Japan; from Garlic to Chocolate to Bacon—and each vendor offers something unique to the table. Aloha Plate is known for their spicy ahi poke bowls and pipi kaula spare ribs, while Mega-Load Burgers has (deservedly) earned a following for their fried rice and garlic shrimp-stuffed pineapples. Other notable grinds from past events? Dynamite chicken with unagi sauce from Carval Express, gyoza from Gyozilla, Lechon Kawali Bacon Fries from Minasa, banana split lumpia from Flipt Out Eats, the famed Kahuku shrimp from Hula Shrimp Co., blue velvet cupcakes (yes, blue) from Koi Catering & Takeout, and 16-inch churros from Khanom Wan. Admission to the event is free, while grinds range in price (Hawaiian Honey Cones, for example, go for $7 a pop, while Nosh's uber-beloved Brazilian Hot Cheese Bites are $5 for two rolls and $8 for seven mini-rolls). Parking can be found in the same lot as the venue; nearby street parking can be found as well. Events also feature portable restrooms and ATMs on-site.
Can't make an Eat the Street event on your Oahu trip? Consider hitting up Mililani Tech Park, where roughly twelve food trucks pull up at lunchtime to serve visitors, workers, and nearby residents. On the menu? Everything from Filipino eats (such as lechon and adobo) to affogato with Cinnamon Toast Crunch. Besides Eat the Street, it may be the next best thing for your on-vacation taste buds.~
BEST THINGS TO DO ON OAHU
The sheer number of things to do on Oahu is enough to make even the most organized traveler's head spin. With that in mind, we've narrowed down Oahu's musts so that you can experience the extent of "The Gathering Place's" wonder: