Discover Oahu's Iconic 'Mokes'
Spend a minute sifting through images of Oahu and chances are you'll be captivated by "The Mokes." One of the most frequently-photographed sites on the globe, the twin islets, traditionally known as Na Mokulua, hammer home Hawaii's status as paradise. Here's why you should key in a trip to this Oahu location – and what to do while you're there.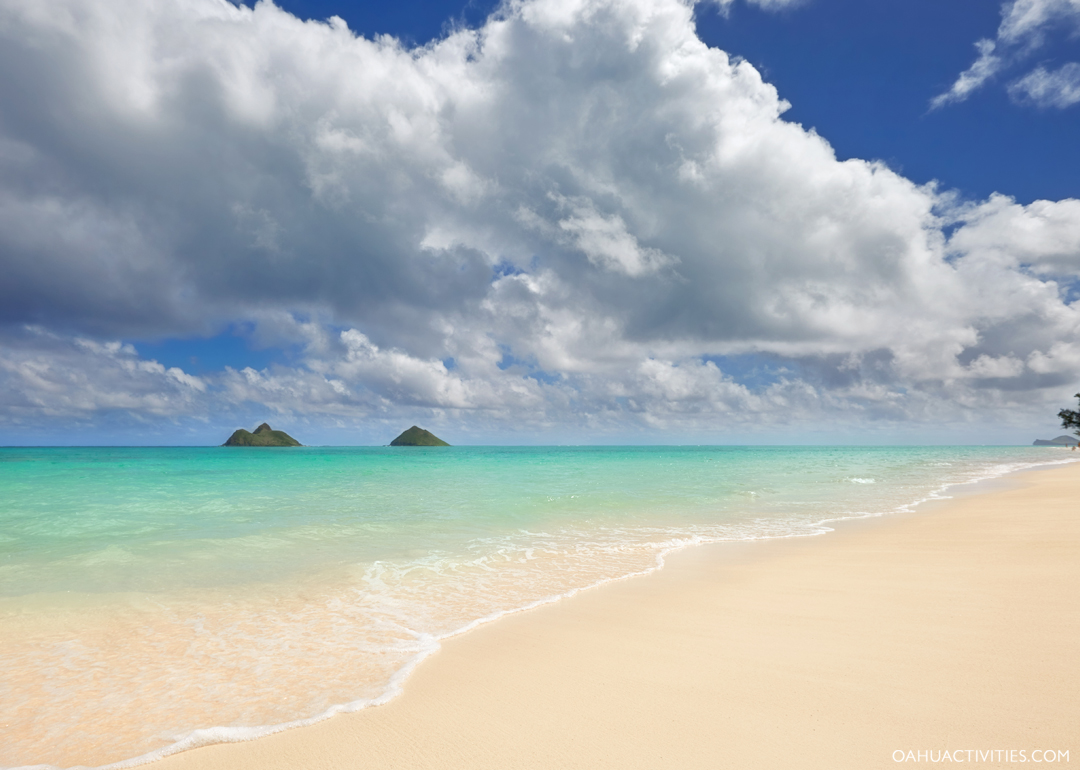 Located off Wailea Point on Oahu's windward side, "The Mokes," as they're called by locals, are a pair of tiny isles roughly a mile and a half off of Kailua Beach Park. Formed over a million years ago, they're part of the summit caldera of the Ko'olau shield – the balsatic volcano that formed the eastern half of Oahu.
The Mokes are comprised of Moku Nui (or "big island" in Hawaiian) and Moku Iki ("little island"). The former – a volcanic cone with an acme of 225 feet – is open to the public during daylight hours, while the latter, Moku Iki, has a single hump that reaches 150 feet and is entirely off-limit to visitors (as is the interior of Moku Nui).
Ancient Hawaiian lore suggests the islands were deemed "kapu" (forbidden) and accessible only to certain Kahuna (or priests). The backside of Moku Nui features an eight-foot-deep, natural saltwater "Queen's Bath," which is said to have been used for healing purposes by Hawaiian royalty.
Today, both islands are part of the Hawaii State Seabird Sanctuary – a refuge that was created by the Department of Land and Natural Resources' Division of Forestry and Wildlife to protect seabirds and vegetation. Consider the place a boon for bird lovers: The Mokes house over 12 different species, including wedge-tailed shearwaters, red-footed bobbys, and Ruddy Turnstones. Moku Nui is also home to the Great Frigatebird—a black-plumed beauty that can have a wingspan of up to seven feet.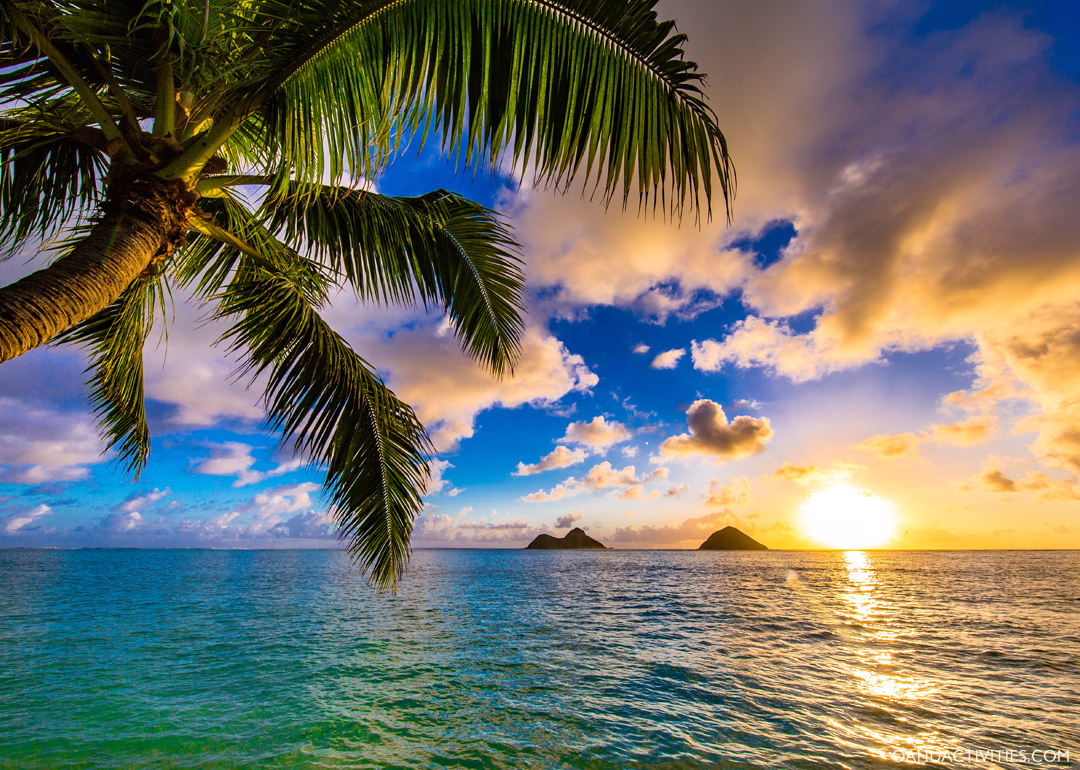 One of the pluses of The Mokes is that you can do nothing more than toss a towel down on Lanikai or Kailua Beach to enjoy the sight of them. (Indeed, many argue these beaches have become iconic – and regular shoe-ins for Conde Nast Traveler's roundup of the best beaches – because of the views they offer.) But the real way to experience their beauty and serenity is to kayak to Moku Nui's shore. (Other vessel options include paddle boards, longboards, and outrigger canoes, and all gear can be rented nearby at Kailua Sailboards & Kayaks or Twogoods Kayaks Hawaii). Along the way, you may come across any number of splendors in the water, such as Hawaiian Green Sea Turtles (honu), papio (crevalle jack), weke (goatfish), and the occasional Monk Seal.
Once there, bask in your surroundings and the concept itself—there's something rather magical about traveling to an island in the middle of the ocean and then paddling out to a smaller islet off its coast. The tranquility Moku Nui provides also renders it an excellent place to kick back, have a picnic, and take a nap, island style.
Meanwhile, on the left shore of Moku Nui you'll find what's known as "Wrap's" (short for the surf break, Wraparound's), while two breaks between the islets—Dogbowls and Catbowls—add to the majesty. Should it be whale season—the span from November to May, when North Pacific Humpback Whales migrate to Hawaii to birth, calve, and feed—you may see a whale tail or two in the water. Moku Nui also offers snorkeling and tide-pool exploring, with frequent reports of rock crabs. Lastly, be sure to make your way to the northern edge of the island, where you'll find Shark's Cove—a protected body of teal-blue water that often sees people jumping 25 feet into its depths.
Keep an Eye Out for the Lanikai Sign
Get close and personal with The Mokes on a sailing canoe. Take a sailing canoe tour and discover The Mokes and all of the rich culture that surround them. Learn from a local "waterman" what is so special about this area and what a lifestyle centered around the ocean is really about. Take part in paddling, sailing and hiking your way to one of the most memorable experiences you can have on the island of Oahu.
Details:
Available Monday – Friday at 8am or 1130am
Check-in 15 minutes early
Paddling and physical activity will be required
Ages 3+ welcome
YOU WILL GET WET!!
Parking is free and open to the public in Lanikai and at Kailua Beach Park. Do know, however, that parking on Mokulua Drive is prohibited on the weekends. Kailua Beach Park offers bathroom facilities and showers, but Lanikai does not. Further, given that there are no facilities on Moku Nui, you'll want to plan accordingly—and bring supplies on the vessel you choose to use. Sunscreen is a must, as well as water and food; we'd also recommend sunglasses and a hat. Also note that there are no lifeguards at Moku Nui.
The glimmering waters offer good visibility for paddles out to The Mokes, but be careful of coral heads. Also, stay mindful of the conditions—even if the surf is only mildly up, it may present some challenges.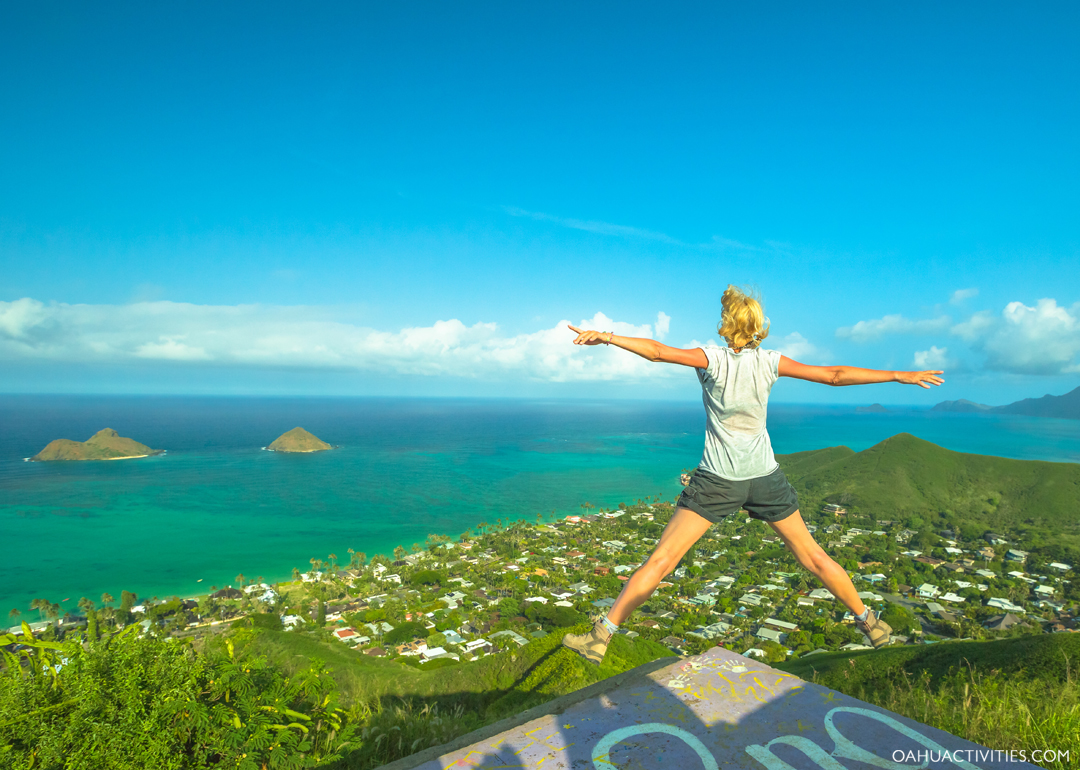 Dubbed by Coastal Living as "quite possibly" the "most beautiful beach town in America," Kailua is an excellent way to start or end your day at The Mokes. Home to approximately 40,000 residents, the beachy town is intentionally small with a low-key, artsy vibe. Here, you'll find an artisan chocolate factory, surf boutiques, a pancake house, a dive shop, and more. Twice a week you'll also find a farmers' market, while ChadLou's Coffee & Tea Lounge features local music (and the chance to ogle custom skateboards). The beaches seen from the shores of The Mokes—those aforementioned Kailua and Lanikai Beaches—are nothing short of remarkable with their impeccable white sand and luminous waters. You may spot a windsurfer or two—Kailua is, after all, where the sport's youngest world champion Robby Naish was raised. Equally unmissable? Dipping into a cone of shave ice after paddling out to The Mokes. Island Snow, now with two locations, is Obama's fave for good cause: the shave ice here is creamier than most, thanks to a scoop of vanilla ice cream on the bottom, while the flavors range from Lanikai Lime to Banzai Banana and Kuulei Coconut. We did say this was paradise, didn't we?~
So you've been out to the mokes and had a blast.  Now you're hooked on ocean adventures and need more.  You are in luck because just up the road you can grab a kayak and paddle your way out to Chinaman's Hat, or more formally Mokoli'i, another islet off the coast found in Kaneohe Bay.  This is a self-guided tour that you can enjoy at your own pace.  Paddle out to this beautiful sight and hike around and to the top to witness some of the most mind-blowing views you can imagine.  Meet the equipment driver at the tour location, receive your gear and some light instruction and you're on your way!  Check out some of the action right here:
BEST THINGS TO DO ON OAHU
The sheer number of things to do on Oahu is enough to make even the most organized traveler's head spin. With that in mind, we've narrowed down Oahu's musts so that you can experience the extent of "The Gathering Place's" wonder: