Plunge into Serenity with Oahu Scuba Diving
It's said that saltwater heals all wounds- figuratively, at least. For many, the ocean is a place of solace, mystery, and wonders beyond belief. On Oahu, the allure of the crystalline seas is strong and visibly apparent. Here, surfers flock to the waves, crowds of beachgoers swim in the temperate seas, and visitors travel thousands of miles to snorkel and see Hawaii's reefs for themselves. However, nothing can better immerse you in this alien underwater world than scuba diving.
Well below the surface, divers explore places seldom humans have seen- eerie shipwrecks now carpeted by corals, gaping underwater lava tubes, and deep offshore reefs. And when it comes to curing allegorical wounds, there's no question about it- day-to-day worries and troubles melt away when exploring gardens of colorful coral 40 feet below the ocean's surface.

If touring the island with your own personal pilot/tour guide isn't sweet enough, this tour takes luxury to the next level. Every guest may as well be Queen Elizabeth. For starters, shuttle service to and from the airport is complimentary for all guests. In addition to these tours being completely private, the real kicker is that every seat aboard this chopper is a window seat. That means there's no competing with strangers for views. That also means that this tour can accommodate a maximum of only three passengers. However, don't sweat if you're a group of five or six. Larger groups will be accommodated by two choppers flying side by side- talk about VIP service.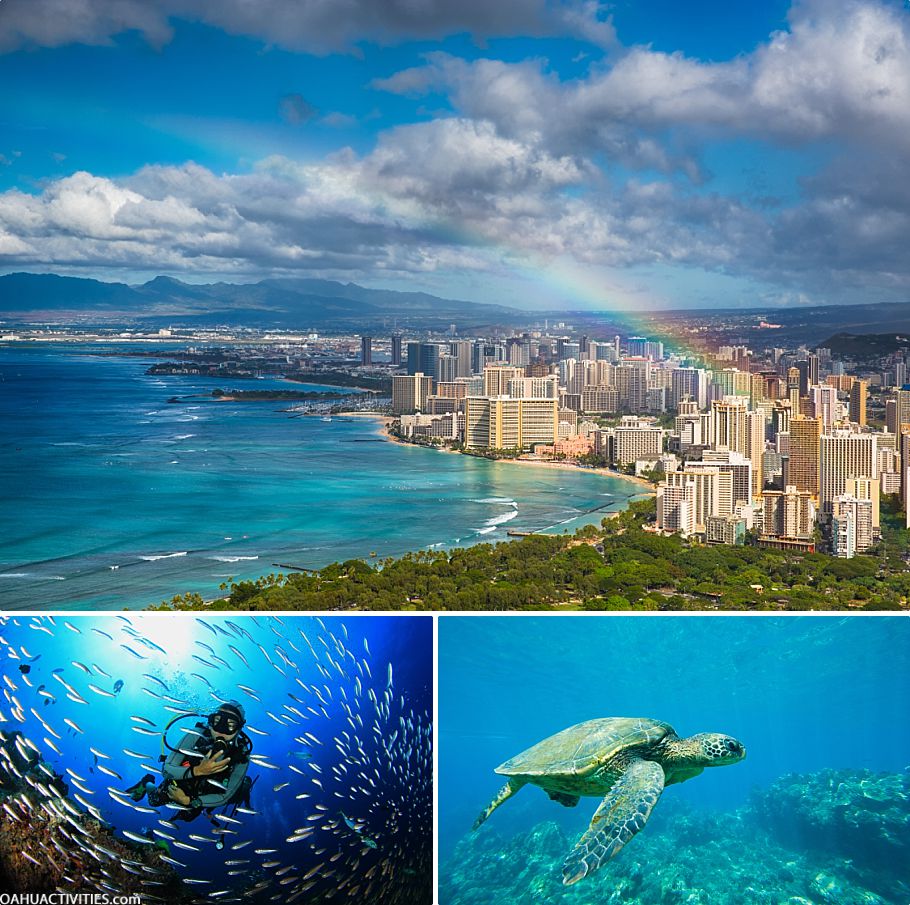 Banzai Divers hosts no experience dives for first-time divers, uncertified divers, or those who are just a little rusty. While no experience dives aren't exactly a novel idea, the small group size makes Banzai Divers stand out. In addition, all divers aboard Banzai Divers tours received personalized service and attention, which is imperative on beginner dives, and hard to find at the larger turn and burn companies.
This tour kicks off with a knowledge development session- your instructor will discuss all the necessary details to dive safely. The debrief is followed by an equipment review, where you'll go over what each piece of dive equipment is and how to use it properly. Finally, you'll hit the water, but before you head for the depths, you'll spend some time on the surface, practicing using and locating equipment, equalizing techniques, and other vital skills. Now it's time to explore.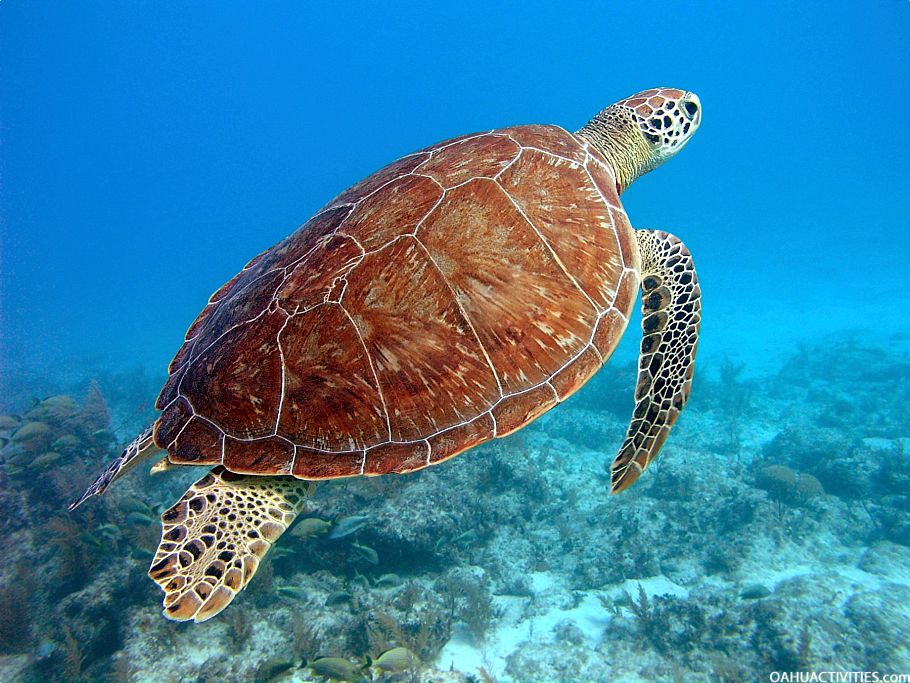 With all the instruction out of the way, you'll join your instructor on a guided tour of Hawaii's reefs. While beginner dives only reach a depth of about 40 feet, there is no shortage of marine life: colorful corals, vibrant reef fish, eels, octopus, and sea turtles abound. Depending on the day's conditions, you'll explore one of Oahu's many dive sites, including spots off Waikiki and the North Shore. Of course, which site you explore depends on the season and the current weather conditions.
One of the most popular dive sites on this beginner excursion is Turtle Canyons. Turtle Canyons is located off Waikiki in only about 30 feet of water. This is one of the busiest turtle cleaning stations on the island, where turtles gather to have algae cleaned off their shells by reef fish.
Alternatively, if you're a more experienced diver, Banzai Divers' lead dives at a handful of underwater plane wrecks and shipwrecks. The waters off Oahu are home to an assortment of wrecks, including minesweepers, downed WWII planes, and enormous fishing trollers. The ocean has quickly adopted these wrecks and turned them into new habitats for marine life. Corals grow on the wreckage, sea turtles rest on the decks, and schools of fish have made the interior their happy home. On this advanced dive excursion, you'll visit one of the six underwater wrecks that Banzai Divers frequents. And since one tank doesn't offer enough time for passionate divers to get their fill, this excursion is a two-tank dive. After visiting the day's decided-upon wreck, you'll head to another nearby reef for a second exploration.

While the dive site you visit will depend on the conditions and the season, the SeaTiger wreck is a definitive highlight. This still intact fishing vessel sits in over 100 feet of water and claims the title of the deepest recreational wreck on the island. Diving deep wrecks can undoubtedly be a little eerie, but the SeaTiger didn't end up on the ocean floor in a fiery tragedy. Just the opposite, in fact- the SeaTiger was purposely sunk in 1996 by a submarine company for its tours. The submarine eventually closed, and the SeaTiger quickly became a must-do dive. It's not uncommon to see massive schools of fish weaving through the wreckage, as well as eagle rays, moray eels, gigantic sea turtles, and a few local white tip reef sharks.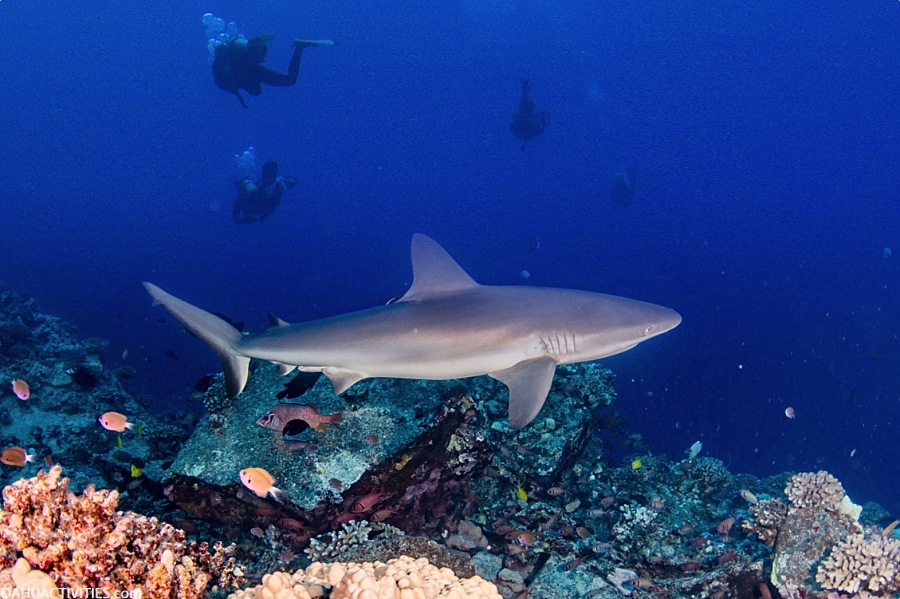 The different seasons in Hawaii yield changing ocean conditions. You can typically expect hammering north swells in the winter months, rendering the North Shore un-divable. However, in the summertime, Hawaii receives consistent south swells, which affect the Honolulu and Waikiki areas. While Hawaii's summertime waves don't get nearly as big as the North Shore wintertime waves, certain summer swells can produce some substantial size. This is important to note if you're hoping to dive on a particular side of the island. While there is no guarantee of which dive site you'll visit (weather conditions are constantly changing in Hawaii), you'll have a better chance of diving on the North Shore in the summer and near Waikiki in the winter.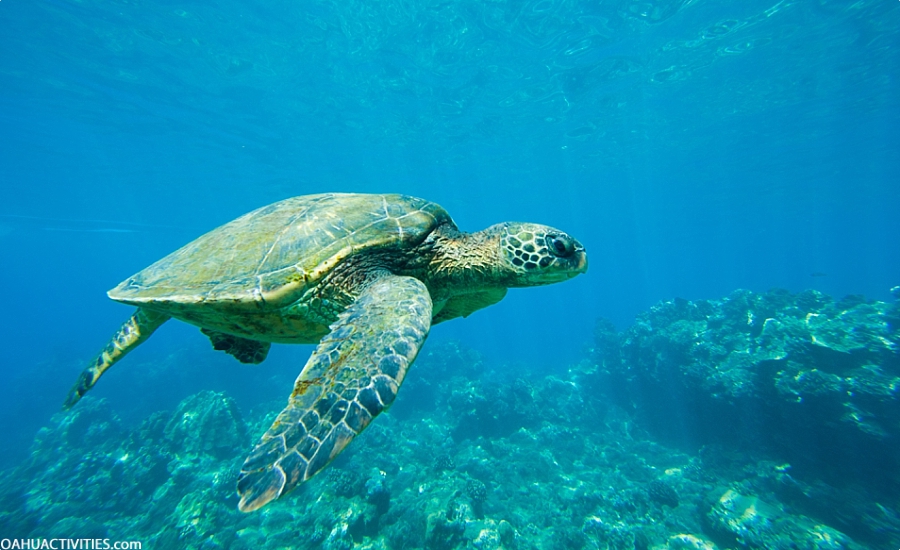 On your dive, you are expected to provide your own towels and reef-safe sunscreen (and swimsuits, but that should go without saying). All of the necessary dive gear will be provided for you, as well as snacks and drinks.
After your dive, you should avoid traveling to elevations over 1,000 feet or flying for 24 hours. It's also advised that you avoid deep tissue massages, hot tubs, and heavy drinking immediately after diving, as these things might affect the way the body eliminates excess nitrogen. Strange- but true.
BEST THINGS TO DO ON OAHU
The sheer number of things to do on Oahu is enough to make even the most organized traveler's head spin. With that in mind, we've narrowed down Oahu's musts so that you can experience the extent of "The Gathering Place's" wonder: