If Kualoa Ranch's sweeping green valley and lush ribbed cliffs look familiar, that's because it's been the set of countless movies and TV shows, most recognizably, Jurassic Park and Lost. Located on Oahu's windward coast near Kaneohe, Kualoa's expansive property is a 4,000-acre working cattle ranch, private nature preserve, and popular tourist attraction that hosts a range of entertaining tours.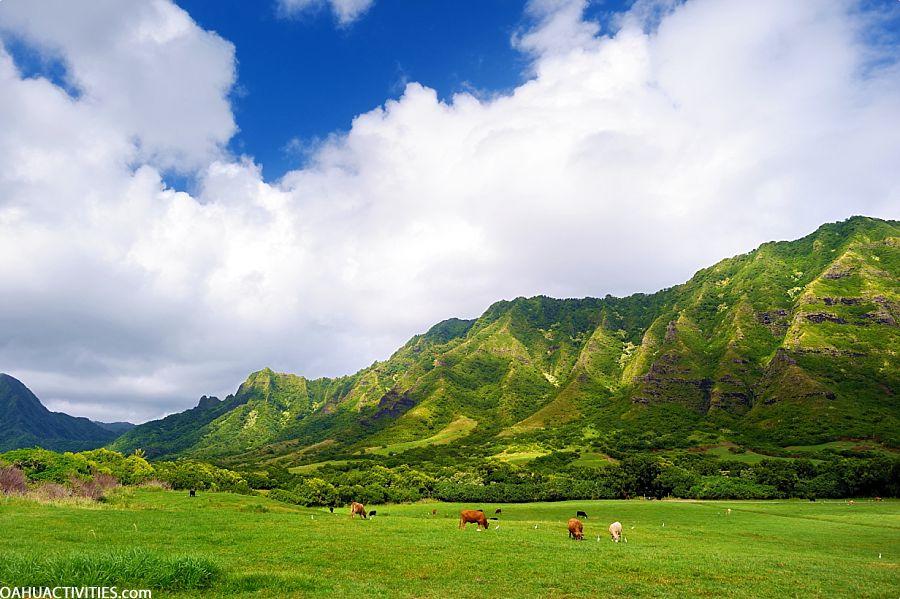 Yearround, Kualoa Ranch welcomes a steady stream of tourists to its verdant grounds. But, while most visitors are lured to the ranch by exciting activities like ziplining, ATVing, and movie tours, they'll discover that Kualoa Ranch is more than a tourist attraction. Instead, Kualoa is a veritable Eden shrouded in captivating history that keeps people coming back time and time again.
A Place For Royalty And Refuge
Before visiting the ranch, visitors might not realize that Kaʻaʻawa Valley (Kualoa Valley) is one of Oahu's most sacred and historically significant places. This flourishing valley was the residence of kings. Children of the aliʻi (royalty) were brought here to be trained in history, traditions, and the art of war. Also within Kaʻaʻawa Valley existed a puʻuhonua. In ancient Hawaii, puʻuhonuas were essentially sacred spaces, where criminals who broke the kapu (or tabu- punishable by death) could seek refuge and forgiveness. Women, children, and the elderly could find peace here, away from battles that might be raging near their homes, and warriors could come to heal. Within the walls of this revered valley, the magic is palpable.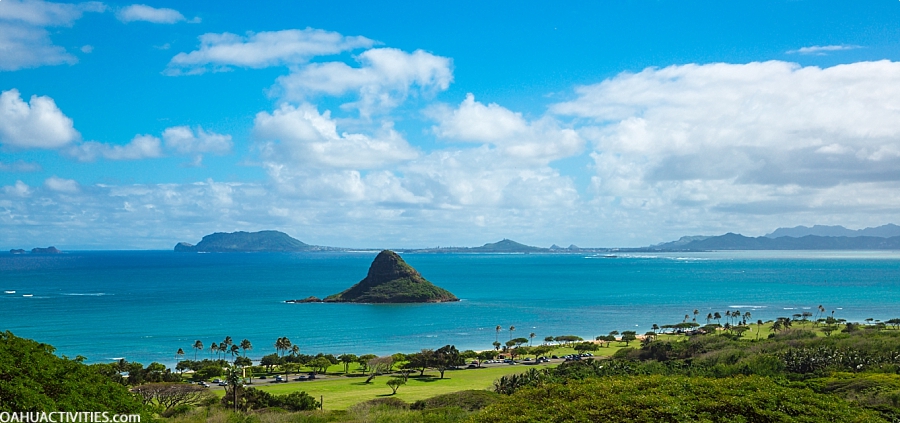 Somewhere within the valley's towering peaks is an ancient burial cave that was once reserved for chiefs. It's said that treasures were stored deep within the cave walls. In addition, the intense mana of Kualoa Valley has driven legends of night marchers- processions of ghostly warriors that are feared by most Hawaiian residents. Some contemporary accounts say they have seen the apparitions marching through the valley on full moon nights.
In 1850, Kamehameha III sold a 622-acre parcel of the valley to Dr. Gerritt P. Judd, missionary doctor and Kamehameha's close personal advisor. Additional acreage was later purchased by Judd and his son to complete the 4,000 acres. Today, the land remains in the family and is managed by one of Judd's direct descendants.
Thanks to careful conservation by the Morgan family (Judd's descendants), Kualoa Ranch stands in stark contrast to other places on Oahu like Waikiki. As a result, Kualoa serves as a look back into what Hawaii potentially looked like 150 years ago. In fact, the ranch is still home to a preserved 800-year-old fish pond.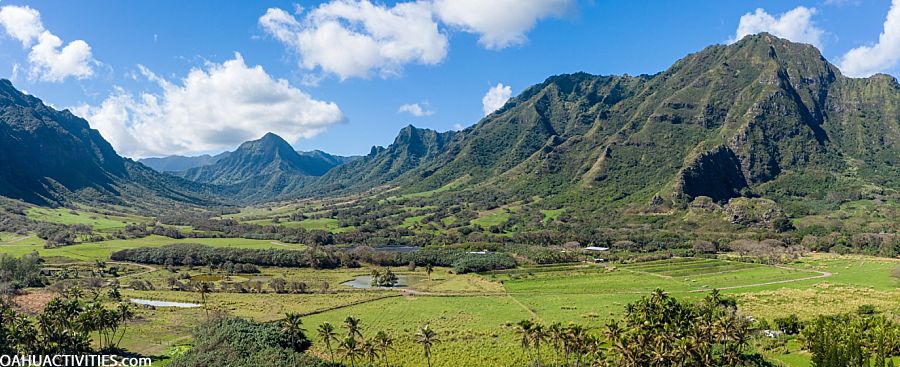 Today, Kualoa Ranch is home to about 600 head of cattle and a range of activities that entertain visitors and teach them about the area's sacred history.
With the dramatic beauty and powerful mana of Ka'a'awa Valley, it's easy to see why countless filmmakers chose Kualoa Ranch for the set of their movies. When we say countless, we're not exaggerating! At locations around the park, you'll come across an astonishing display of all the movies and TV shows filmed at Kualoa since the 1950s. Most notably, the list includes the iconic franchise Jurassic Park, 50 First Dates, Kong Skull Island, Jumanji, Pearl Harbor, Godzilla, Lost, Magnum PI, and Hawaii 5-0- just to name a few.
Kualoa Ranch offers a 1.5-hour Hollywood Movie Sites Tour, traveling to some of the most recognizable filming locations within the valley. This includes a stop at one of Godzilla's massive footprints, the boneyard from Kong, Skull Island, classic Jurassic Park sites, and a visit to an army bunker built in WWII that is filled with props and historical artifacts. Of course, the bunker has been used as a set in countless films as well.
Arguably, one of the most popular tours at Kualoa Ranch is the 2.5-hour Jurassic Park tour. This tour visits some of the most well-known sites from the Jurassic franchise. This includes the t-rex paddock with its 60-foot high walls, the famous field where the dinosaurs were first shown running through the valley in the original film, as well as memorable locations from the Jurassic World films like the "gyrosphere loading station".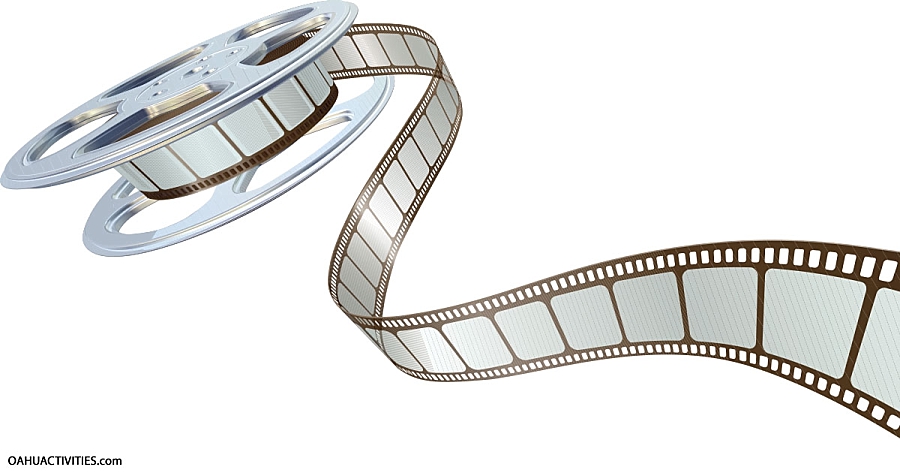 While Kualoa Ranch is so emblematic of Jurassic Park that once glance up the sweeping valley triggers the swelling theme song to play in your head, it's recommended to rewatch the original movie and Jurassic World for the best experience on this tour.
While famous movies put Kualoa Ranch on the map, movie tours only scratch the surface of what's on offer at Kualoa. The ranch hosts ATV Raptor tours, where you'll ramble through mud and flowing streams deep into remote areas of the valley. Ziplining is also a popular option. Kualoa Ranch is home to seven exciting lines and two suspension bridges. Like most tours at Kualoa, you'll also get a peek at some famous movie sites.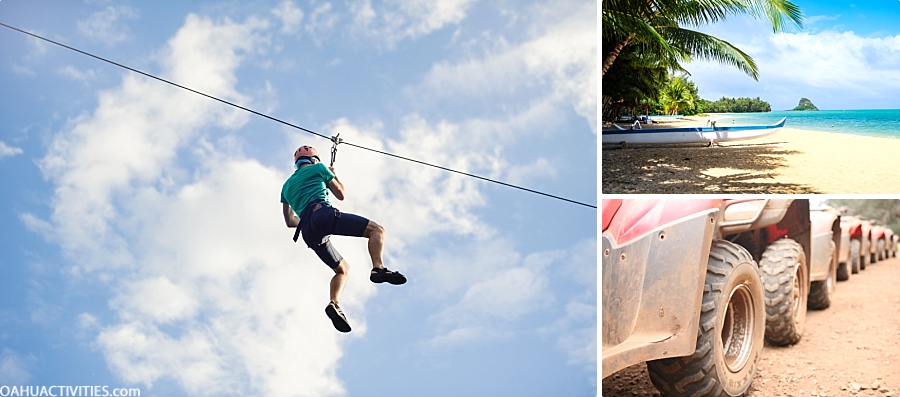 Kualoa's reach doesn't end on land- the ranch actually stretches down to the sea at Kaneohe Bay. Kualoa offers different water activities to choose from. The first is their "Secret Island Beach Adventure." This relaxing adventure features a short boat ride across the 800-year-old fishpond to Kualoa's secret beach, where you can kayak, paddleboard, play some fun games like cornhole, or just kick back in a hammock or on the golden sand. Alternatively, if you're looking for a little more adventure, you can take a cruise on the Kailani, Kualoa's 49 passenger catamaran, as part of their "Ocean Voyage Tour." This 90-minute excursion tours the turquoise waters of Kaneohe Bay and allows guests to take in the stunning backdrop of Hakipuʻu, Kualoa, and the Koʻolau mountains. This adventure also includes a 20-minute fishpond tour where you will learn about ancient Hawaiian stewardship practices.
Last but certainly not least, Kualoa hosts a range of eco/voluntourism tours. Seeing as Kaʻaʻawa Valley was one of the most sacred, protected places on Oahu for centuries, Kualoa Ranch gives visitors the chance to dive into ancient Hawaiian practices and learn more about the islands' culture. For example, Kualoa's "Malama Experience" is a hands-on activity that shares with visitors the pillars of kuleana and community that are paramount in Hawaiian culture. In addition, this activity teaches guests about the honored Kalo (taro), which was the plant that Polynesians largely survived off of for thousands of years. Depending on what needs to get done around the ranch that day, the activity might include thatching traditional Hawaiian hales (grass huts), assisting with cleaning, planting, or harvesting Kalo, or caretaking the laʻau lapaʻau (medicinal plants).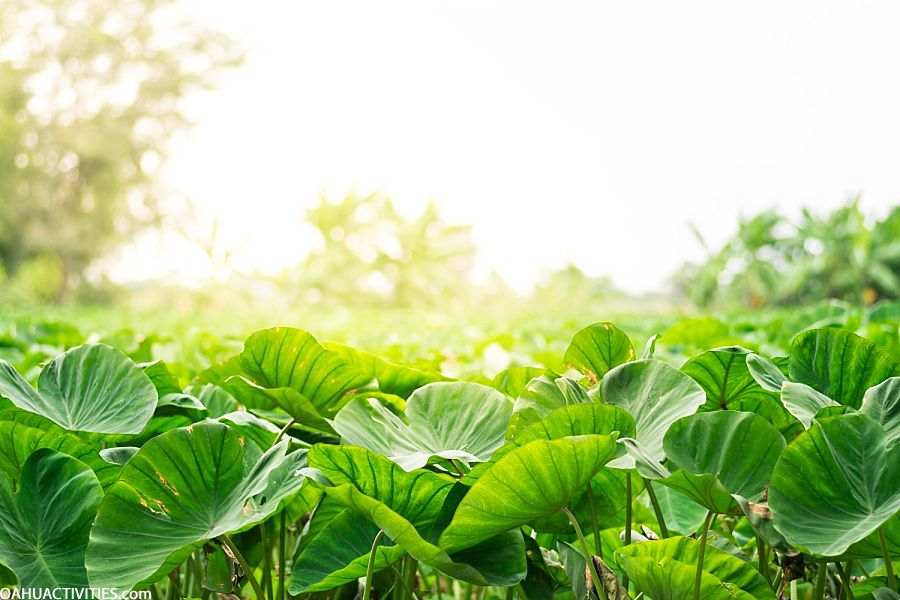 BEST THINGS TO DO ON OAHU
The sheer number of things to do on Oahu is enough to make even the most organized traveler's head spin. With that in mind, we've narrowed down Oahu's musts so that you can experience the extent of "The Gathering Place's" wonder: