Numerous locales in Hawaii have set the stage for scenes in the Jurassic Park franchise, from the lush Garden of Eden on Maui's east side to Kauai's towering Manawaiopuna Falls. However, undoubtedly the franchise's most recognizable filming location in the state is the sweeping Kaʻaʻawa Valley on Oahu's windward side.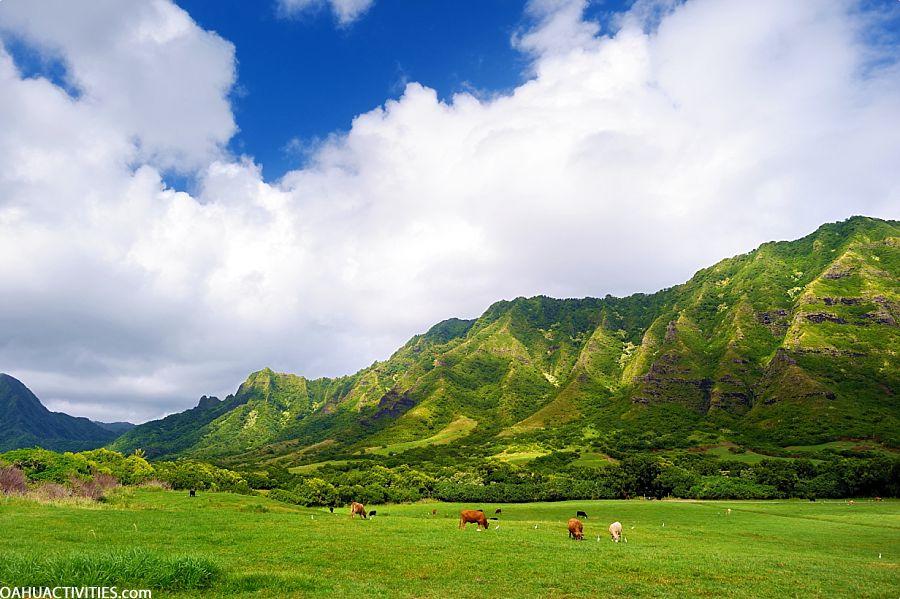 One glance up this gaping windward Oahu valley is enough to set off the swelling Jurassic Park score in your head, but if a simple glimpse of the verdant valley isn't enough for you, Kualoa Ranch now offers a Jurassic Park tour for die-hard fans and movie buffs.
Chances are if a movie or show was filmed in Hawaii, the sprawling Kualoa Ranch was used as the set. A plethora of films and TV shows have been filmed on Kualoa's immense property, earning it the moniker of 'Hawaii's Backlot' by those in the film industry. The Jurassic Park franchise is one of the ranch's most significant claims to fame and arguably put Kualoa on Hollywood's map. While this action-packed tour focuses primarily on the Jurassic Park franchise, you'll also stumble upon areas and left behind sets used in other movies, like 50 First Dates and Kong: Skull Island.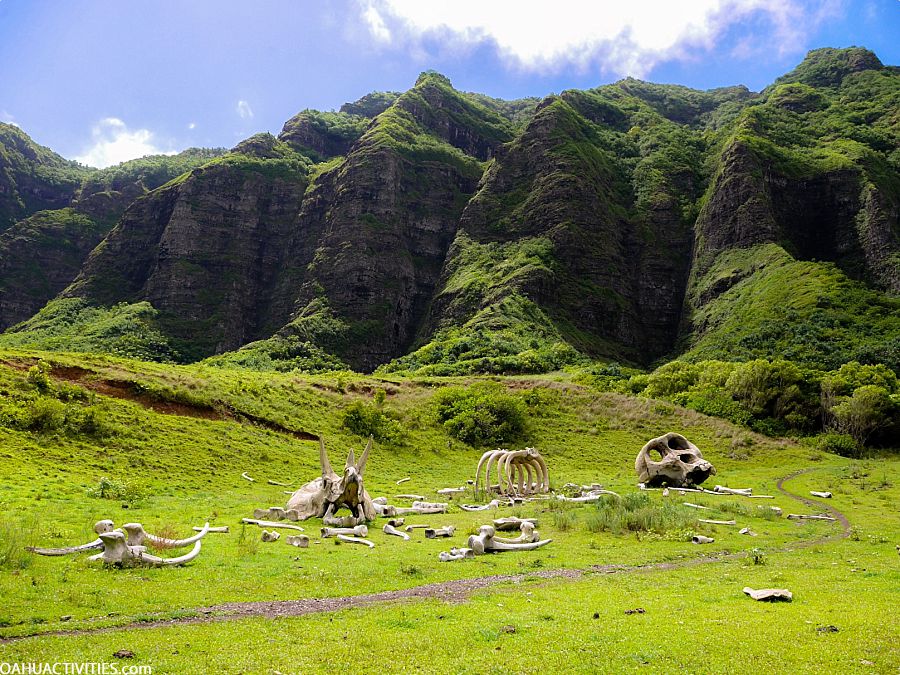 2.5 Hours, 4,000 Acres, and Countless Sets
Kualoa's newest tour takes a deep dive into the world of Jurassic Park. Over 2.5 hours, you'll explore the ranch inside and out, visiting countless Jurassic sets and traversing a total of 4,000 acres- the entirety of Kualoa's vast property. In the spirit of adventure, this excursion utilizes a 16-passenger, open-air vehicle, custom-built for rambling on Kualoa's unkempt back roads.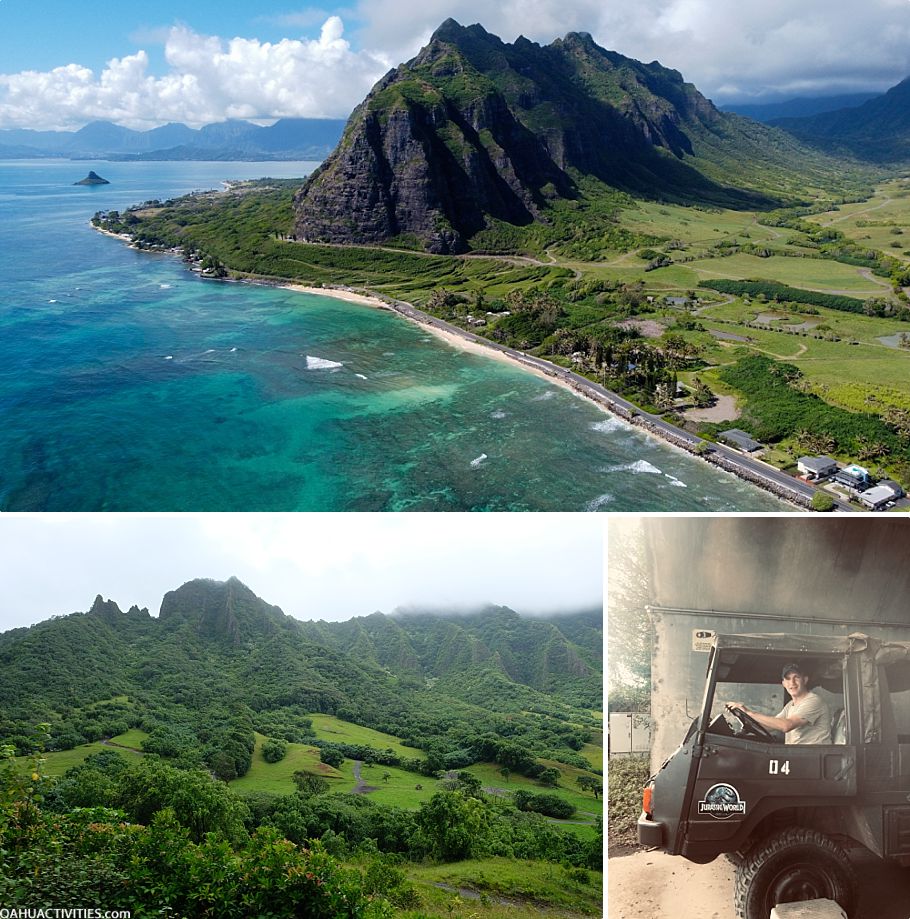 After a brief meet and greet with your tour guide, it's time to get yourself into the Jurassic Park spirit, which admittedly isn't hard to do. When your tour guide isn't speaking, they'll be playing the original Jurassic Park score over the vehicle's sound system.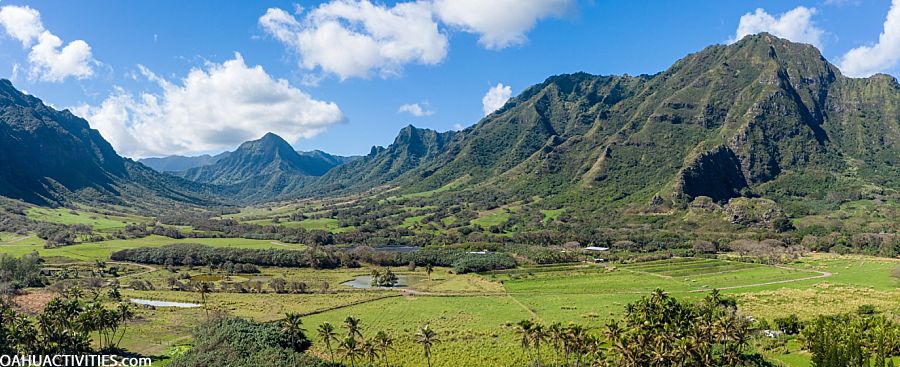 After a brief stop at the overlook, you'll head to one of the most recognizable and exciting sets from Jurassic World- the Indominus Rex paddock. After filming wrapped up, this impressive structure was left behind for Kualoa guests to explore. You'll also discover that the paddock isn't quite a paddock at all. It consists of just one wall, unbeknownst to the millions of people who watched the film. Chalk it up to movie magic and sleight of hand by filmmakers. However, you can still marvel at the 60-foot high wall, complete with Indominus Rex scratch marks.
At this stop, you can also climb up into the Indominus Rex observation deck, which is exactly as it appears in the movie, by the way. Today, it's decorated with photos of the production and the actors.
Also gracing the itinerary of this action-packed excursion is one of the most whimsical sets in the Jurassic World movie- the gyrosphere station. In the film, the gyrosphere is a sphere-shaped ride that carries tourists throughout the park to view the dinosaurs safely. Unfortunately, no gyrosphere whisks visitors around Kualoa Ranch, but a stop at the set yields a slew of interesting facts about filming from your tour guide and stunning views of the valley. Today, the gyrosphere station area can be booked for weddings.
Burrowed into the dizzying cliffs at Kualoa Ranch is an old military bunker. As with most of the stops on this tour, the bunker was used for filming in Jurassic World. While the bunker has had many uses since its construction, today, it primarily serves as a film museum for the countless movies and shows filmed on the ranch. As a result, you can browse Jurassic memorabilia, including props, photos, and even life-sized dinosaurs.
Naturally, this tour makes a stop in the iconic field were in the first film, Alan and the children are running from a pack of ostrich-like dinosaurs. They dive for cover underneath a log, which is still there to this day, and it makes for a great photo op.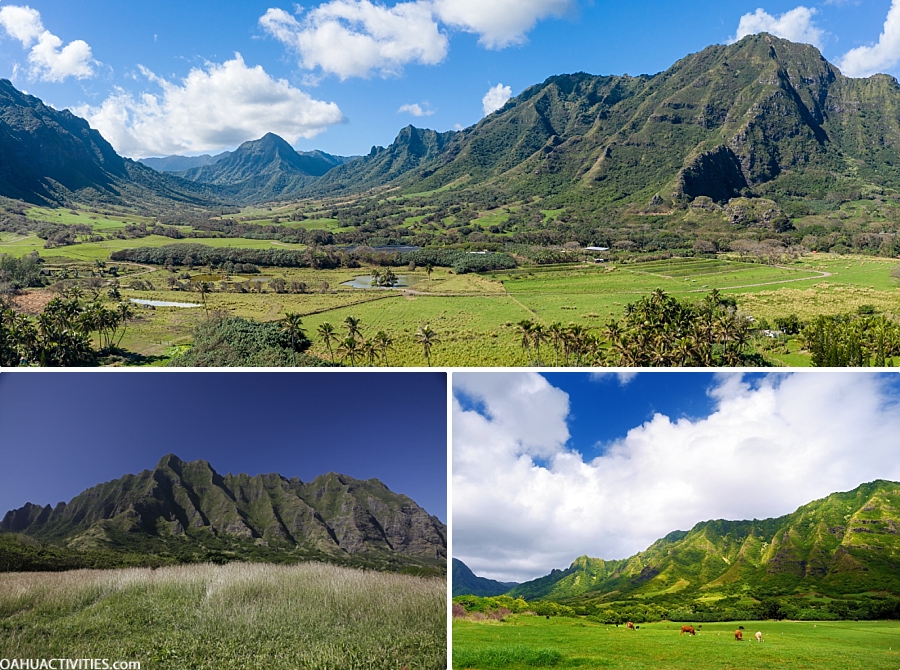 Interestingly, this scene is said to have put Kualoa Ranch on the map and made the property so recognizable. A majority of the original Jurassic Park film was set on Kauai. Unfortunately, before filming finished, the category 4 Hurricane Iniki hit, ravaging the island and destroying the entire Jurassic Park set. Rather than spend copious amounts of time, energy, and money rebuilding the set to finish filming, director Steven Spielberg decided to move production over to Oahu, settling on Kualoa Ranch.
For the best experience, it's recommended that you binge-watch all of the movies in the Jurassic Park franchise beforehand. Although, if you can only pick one, this excursion hits more Jurassic World sites than anything. Be sure to bring your camera along; there are many views, sets, and selfie opportunities that you are going to want to take advantage of.
Due to Kualoa Ranch's commitment to keeping their "guide to guest" ratio low for the best guest experience, these tours fill up fast. Many tours sell out 4-5 weeks in advance, so it's essential to book well in advance if you want to snag a seat during your preferred time slot. Of course, if you're on a last-minute whim, you can always search for single seats or split up as a group. If you're traveling with children, keep in mind that keiki three and up are welcome on this tour.
BEST THINGS TO DO ON OAHU
The sheer number of things to do on Oahu is enough to make even the most organized traveler's head spin. With that in mind, we've narrowed down Oahu's musts so that you can experience the extent of "The Gathering Place's" wonder: