There are good reasons why this is the 3rd most popular destination for visitors and locals on Oahu. Pristine snorkeling and a large white sand beach make this a gem not to be missed!

Roughly translated as "curved bay," Hanauma Bay Nature Preserve was formed approximately 32,000 years ago during what's known as the Honolulu Volcanic series—a string of explosive eruptions that gave rise to a number of lava flows, cinder cones, tuff cones, and volcanic islands. Once a volcanic crater, Hanauma was ruptured by the Pacific to make a nearly circular bay. Vertical crater walls and a peripheral reef help make the water it cradles lake-flat and tranquil—once rendering the picturesque spot a sanctuary for Native Hawaiian royalty, who used the area for fishing and entertaining. Today, it's considered one of the most pristine spots to snorkel on Oahu.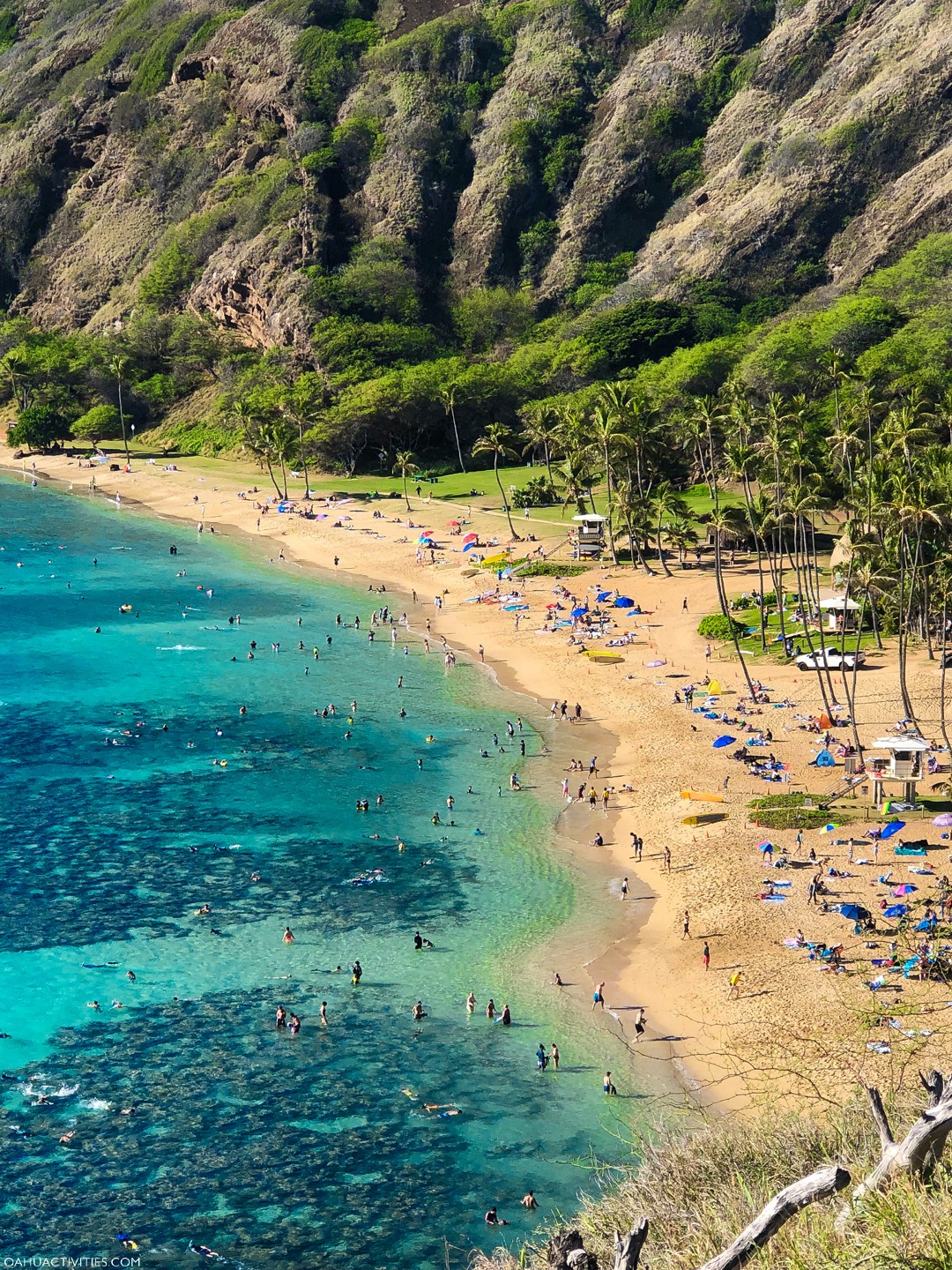 The influx of Hawaiian tourism brought large numbers of people to Hanauma Bay's shores, so much so that at its peak, it saw 10,000 visitors daily. Such overuse compelled the federal government to ban fishing in the bay in 1967, the same year it was designated a marine life conservation and underwater park (the first, we should add, in the state). In 1990, the City and County of Honolulu formulated a plan to restore its waters after years of abuse and neglect and to further reduce the impact of visitors. This plan entailed decreasing the number of visitors allotted at the park, founding an educational program, and establishing supportive restrictions. Since then, the park has flourished, while the closure of the park during the COVID-19 pandemic resulted in a 30% increase in water clarity. In other words? Should you visit, it's imperative that you heed the park's rules to ensure its beauty—and health—endures.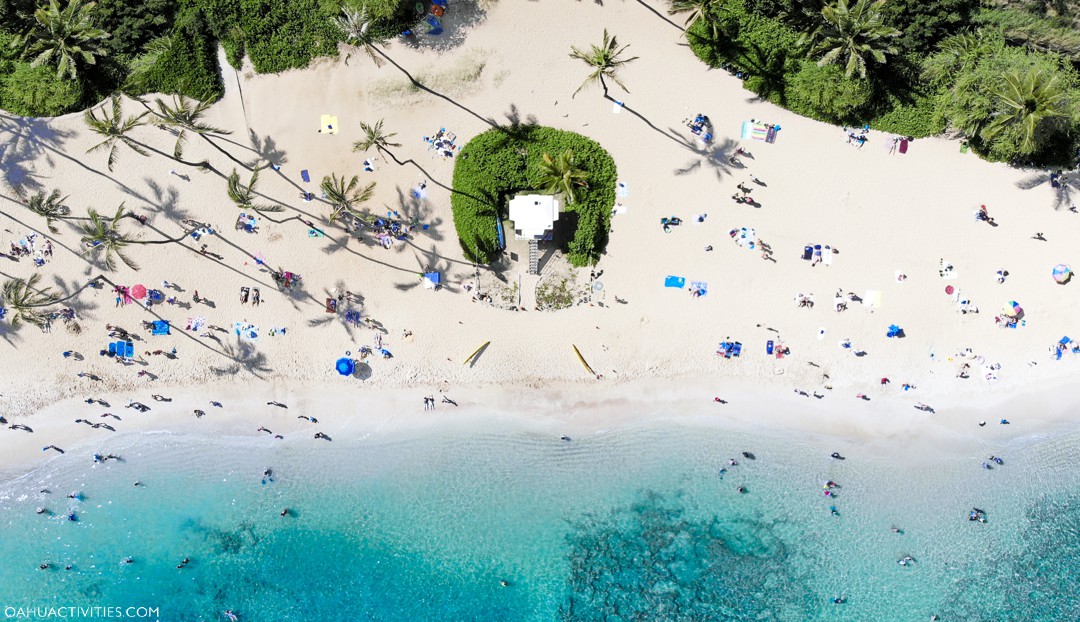 The main draw of Hanauma Bay Nature Preserve, besides its natural gorgeousness? Its snorkeling opportunities, of course! The marine life conservation houses over 400 species of fish, inciting many to claim that swimming in its waters is like jumping into a giant fish bowl. The marine life you might see ranges from butterfly fish, surgeon fish, parrotfish, goat fish, and damsel fish to Moorish idols, yellow tangs, jacks, mullet, snapper, eels, and octopus. Other gems you might espy? Hawaii's state fish, the humuhumunukunukuapua'a (or reef triggerfish), Monk seals, and the beloved Hawaiian Green Sea Turtle (or honu)—a creature that can reach up to four feet long and three-hundred pounds. (Read: they're magnificent.)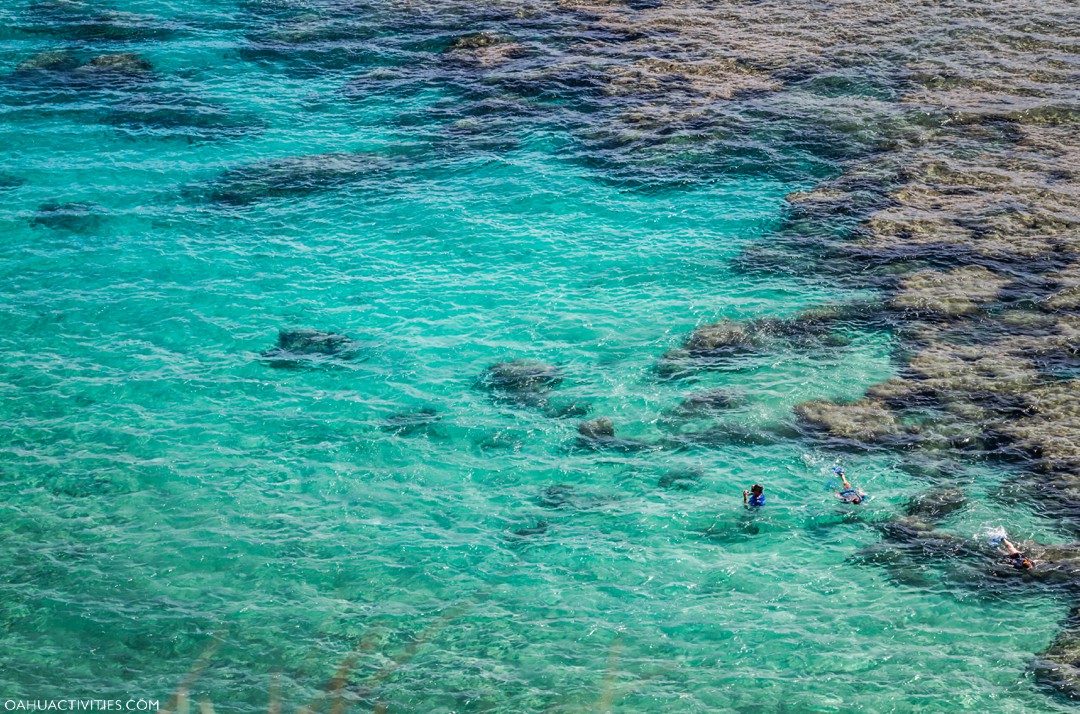 Also magnificent: Hanauma Bay's coral forests—collections of live entities that provide a home to the cove's diverse and abundant marine life. The different shapes of coral you might spot while snorkeling include lobe, rice blue, and cauliflower corals, all of which hold their own mystique.
On the left-hand side of the bay, you'll find what's called Keyhole Lagoon—a distinct, key-shaped sandy area surrounded by a sizable reef wall. If you're new to snorkeling, this is a prime place to start, given its shallow waters.
Consider yourself a pro swimmer and snorkeler? Viewing conditions improve outside of the reef, where you'll find impressive coral heads, larger fish (the deeper the water, the bigger the fish), and, oftentimes, fewer people. Just be sure to take all precautionary measures, and refrain from attempting to swim outside the reef when the water is rough.
As for the famed Toilet Bowl at Hanauma Bay—a natural swimming pool that was formed by centuries of waves beating against the rocks? It's forbidden and treacherous, so do keep out.
Hanauma Bay Nature Preserve is located approximately twelve miles east (or twenty minutes) from Waikiki.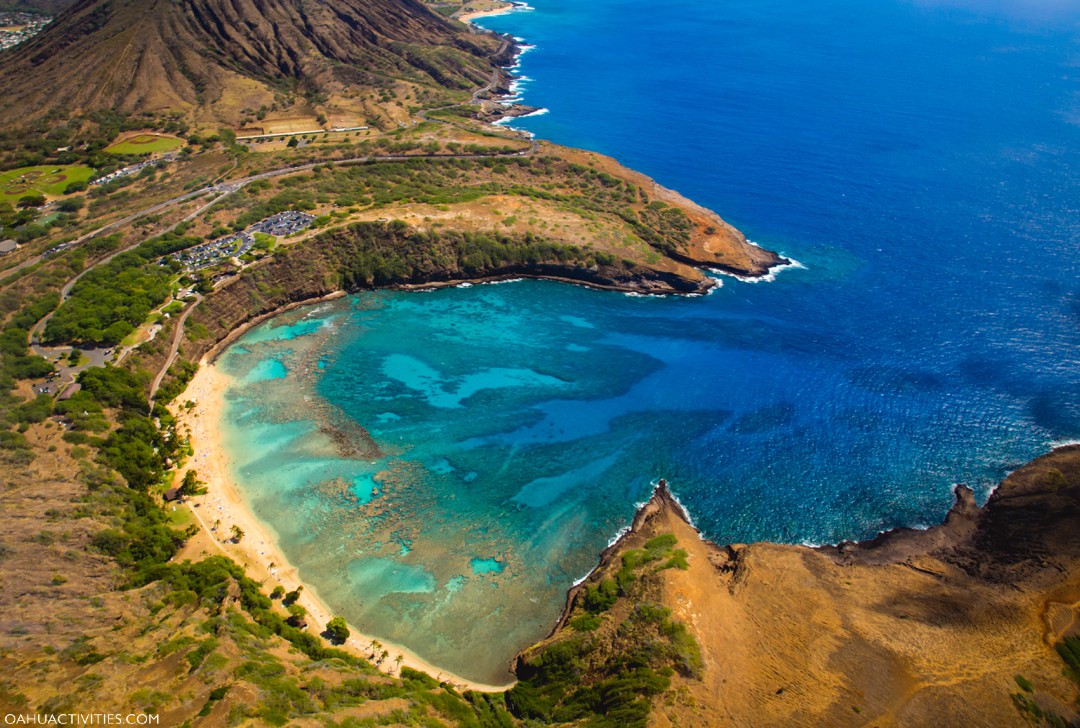 While Hanauma Bay Nature Preserve is presently closed due to COVID-19, it's otherwise open year-round, with the exception of Tuesdays, Christmas, and New Year's Day. During the summer, the park opens at 6am and 7pm; it closes at 6pm during the winter months. (Why? Earlier sunsets.)
Parking, Entrance, and Fees
The parking lot at the bay ($3/car, cash only) fits up to 300 vehicles and gets packed as early as 7:30am. As an alternative, you can take the city bus or book a private shuttle service, the latter of which often provides snorkel gear and fins. Do note, however, that reservations for the Waikiki shuttle must be made in advance. Once at the bay, you can either take a short but steep, ten-minute walk to its white-sanded beach or jump on a quick tram ride for $1.00. (The return fee is $0.75.) The entrance to Hanauma Bay is $12.00, but children 12 and under, local residents (with a proper ID), and active military members are free.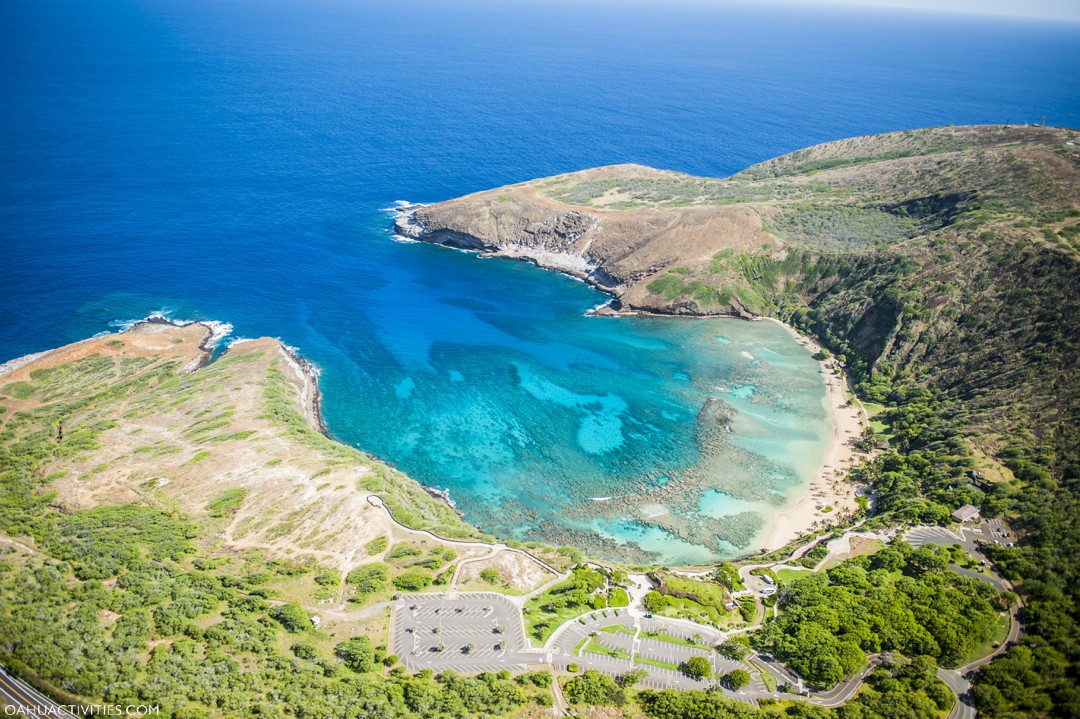 In an effort to retain its immaculateness, visitors are required to watch a nine-minute educational video before entering the park—a presentation that covers not only the bay's safety rules but, importantly, asks visitors to refrain from mistreating marine animals and touching or walking on the delicate coral.
Happen to have valuables with you? Lockers are available, and lifeguards man the spot. Bonus points: Those who are near-sighted can rent prescription snorkel masks for $15 a pop, and the bay is wheelchair accessible. What's more, the park offers restrooms and changing rooms.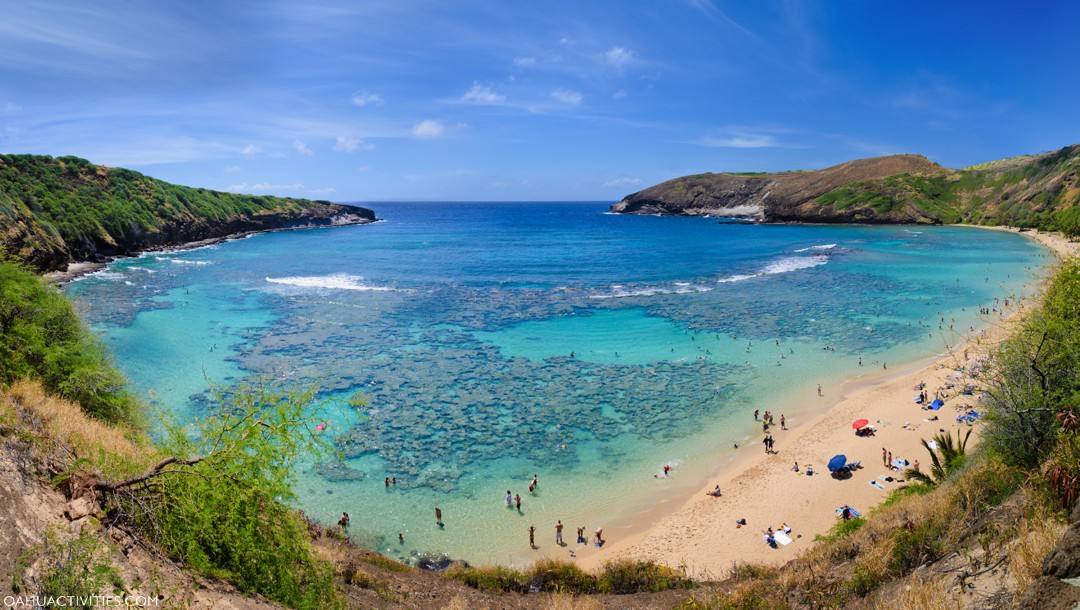 Snorkeling in the sun can most certainly prompt the hungries—and Hanauma Bay Nature Preserve has you covered. Their snack bar, which is located on the upper level of the park and just across from the cashier, offers a variety of grinds, including bacon cheeseburgers, turkey wraps, salads, fruit, French fries, and local faves such as Teriyaki chicken, pulled-pork sandwiches, and chili with rice. Snacks and drinks are also available. Alternatively, you can pack a picnic lunch and savor it while staring out at what "Dr. Beach" named the Best Beach in America in 2016. Could anything, after all, sound dreamier?~
BEST THINGS TO DO ON OAHU
The sheer number of things to do on Oahu is enough to make even the most organized traveler's head spin. With that in mind, we've narrowed down Oahu's musts so that you can experience the extent of "The Gathering Place's" wonder: