Certified Sustainable Tour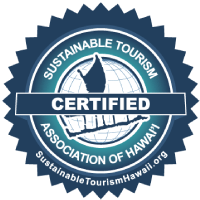 Address
53-81 Halai St. Hauula, Hi 96717
The Sustainable Tourism Association of Hawaii (STAH) is a non-profit organization dedicated to promoting sustainable tourism in Hawaii. As a member-based organization, STAH focuses on educating and certifying tour operations that prioritize sustainability.
For over 25 years, STAH has been actively involved in educating visitors, businesses, and the local community about the importance of eco-friendly tourism. Their programs aim to protect Hawaii's environment and cultural resources. Their mission is to ensure that companies comply with guidelines that safeguard Hawaii's sacred land, environment, endangered species, and the cherished Aloha way of life. To support their cause, donations are greatly appreciated.
Our certified tour operators maintain exceptionally high standards for community and environmental preservation. These operators strive to provide eco-friendly and culturally educational experiences, making sustainability a top priority.
By choosing a tour with the STAH stamp of approval, you not only support Hawaii but also contribute to the protection of our unique environment. The ultimate goal is to encourage conscious and respectful travel, which we refer to as #TravelPono. We strongly urge visitors to explore Hawaii in a way that honors the native Hawaiian culture, wildlife, environment, and local residents.
Join us in preserving the beauty of Hawaii as we travel responsibly and respectfully.