Family Friendly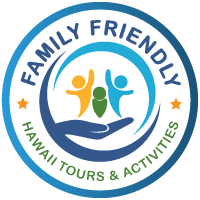 Address
53-81 Halai St. Hauula, Hi 96717
When it comes to visiting Hawaii with kids, there are countless ways to explore this incredible destination together. Whether you're a young family or a large group of extended relatives, there's something for everyone.
Hawaii offers a wide range of tours and activities that cater to all ages. Our family-friendly tour options are perfect for children and young adults alike. Consider taking a tour of one of Hawaii's cultural, historical, or scenic sites on your next trip. These sites offer enriching experiences for visitors of all ages.
For a memorable experience, both parents and kids will enjoy exploring a real Polynesian village followed by a mesmerizing sunset luau at the Polynesian Cultural Center. You can also embark on a historical tour of Pearl Harbor to delve into the past or dive into Hawaii's underwater world on a thrilling submarine excursion.
If you're seeking an Indiana Jones-style adventure, don't miss the exhilarating ziplining opportunities. From exploring national parks and lush tropical rainforests to breathtaking helicopter sightseeing, there's no shortage of fun and excitement in Hawaii.